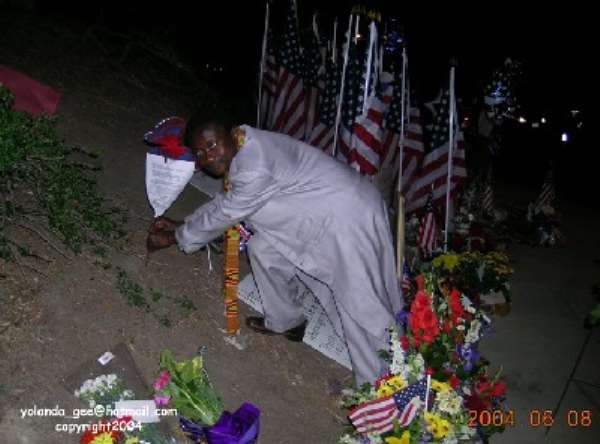 HISTORIC PICTURE AT PRESIDENT REAGAN'S FUNERAL SHOWS CPP PARLIAMENTARY CANDIDATE PLACING FLOWERS.
A historic picture taken June 9, 2004 by a mourner at President Ronald Reagan's funeral at Simi Valley before the President's burial shows Ghana's Convention People's Party (CPP) Nhyiaeso Constituency Parliamentary Candidate, Kwame Appiah Boateng, popularly known by Ghanaian Communities around the World as "Kwame Mayor", placing flowers as a tribute to the American Hero.
The former Ghanaian-American Los Angeles Mayoral Candidate turned Ghana's Parliamentary Candidate for the December 2004 Elections is reported to have placed a copy of his "Letter of Sympathy" to Mrs. Nancy Reagan and a flower outside the President Ronald Reagan Library at Simi Valley, California.
According to sources, the CPP Parliamentary Candidate again travelled a long distance to Simi Valley to witness President Reagan's burial June 11, 2004 from a Golf Course not far from the the President's burial site at the Reagan Library.
The CPP Parliamentary Candidate say's he gives the credit of travelling all the way to witness President Reagan's funeral to his Party which he says would surprise Ghanaians and the World Community at the December 2004 elections just as Sonia Gandhi's Political Party surprised India and the World Community.
" The Gandhi Dynasty shocked India and the World Community" . "Nkrumah's Dynasty will shock Ghana, Africa as a whole and the World Community" said a confident Boateng.
The first Ghanaian born to run for Mayor of Los Angeles who is currently helping his Native Country to cement the noble principles of Democracy and contributing in his own small way to building permanent infrastructures of a " Free Society" says his Party stands for Freedom and just as President Reagan cherished Freedom for the World Community including Americans, his Party cherishes Freedom not only for Ghanaians and other Africans, but freedom for the entire World Community.
The Parliamentary Candidate praised President Reagan as a "True American Hero".