Come On, Ms. Desouza, Clueless Rawlings Ruled Ghana For Twenty Years!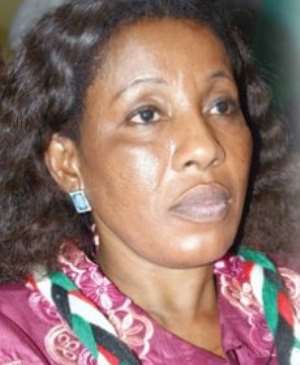 The call by the National Women's Organizer of the ruling National Democratic Congress (NDC), Ms. Anita DeSouza, for the resignation of the President of the Ghana Football Association (GFA), Mr. Kwasi Nyantakyi, while admittedly worthy of critical examination and serious consideration is, nevertheless, contradictory (See "Eight Years Is Too Much [sic] For Kwesi [sic] Nyantakyi - Anita De Soso [sic] Complains" MyJoyOnline.com 6/30/14).
It is contradictory because Ms. DeSouza also claims that Mr. Nyantakyi has been able to unprecedently engineer the qualification of the Black Stars, our senior national soccer team, to three World Cup tournaments since 2006, when Mr. Nyantakyi was first named to his current post. In essence, what this means is that in just eight years, the President of the GFA has achieved far more for the development and upgrade of professional Ghanaian soccer than NDC founding-father Chairman Jerry John Rawlings did for the game in the nearly two decades that he absolutely dominated all spheres of our national endeavor.
Significantly, though, I happen to agree with the Deputy-Chief of the National Disaster Management Organization (NADMO), but for quite different reasons than sheer longevity. I am of the firm opinion that it is time for Mr. Nyantakyi to take his bow and exit our national soccer scene with poise and dignity, while he still has the time to do so before the proverbial administrative roof over his head begins crashing in with all the as yet largely unproven allegations of rank corruption swirling around the man, including gross and abject disrespect for our hardworking and globally renowned and distinguished players, match-fixing and payola-oriented FIFA voting style.
For instance, it has just been shamefully revealed that Mr. Nyantakyi flew business-class to Brazil for the 2014 World Cup tourney with his wife and two children, while unquestionable giants and legends of the game, and our true national representatives and heroes on the frontlines, like Messrs. Asamoah-Gyan, Muntari, Kwarasey and Boateng had to contend themselves with knee-cramping legrooms in the economy-class section, or caboose, of their flight. Now, just how does one expect the young children of the GFA President to cultivate any modicum of respect for our multi-million-dollar worth players? You see, it is in this most sacred aspect of our delicate sense of cultural civility with which I am most concerned.
Then also, the rather inexcusably benighted decision by the now-former Sports Minister and his Deputy to fly to Brazil some $3 million, in hard currency, on Ghana's presidential jet, to settle the match-appearance fees of our players is one that continues to cause a riptide in my craw. But, of course, the blame for this national contretemps goes well beyond the doorstep of Mr. Nyantakyi. It squarely lies at the doorstep of President John Dramani Mahama! And it is inescapably criminal, in view of the scandalous fact that a whopping 17-percent of the aforesaid bonus money went to the Brazilian government in the form of a tax windfall for absolutely no work done, when the far safer and more efficient application of high-tech modern banking protocol could have ensured us the barest minimum in transactional fees.
Is there any wonder, therefore, that many a fly-by-night foreign business scam-artist and their morally reprobate and pathologically noetic Ghanaian collaborators continue to wantonly and inexorably fleece our national coffers in the name of judgment-debt payments?
Ultimately, my one constructive admonishment to both the Ghana Government, as clearly distinguished from the Mahama administration, is for Mr. Nyantakyi to temporarily vacate his post and have an Interim GFA President named in his stead, while the plethora of allegations levelled against him are expeditiously, and meticulously, investigated in good faith by an independent commission of inquiry bi-partisanly established by Parliament.
I, however, vehemently disagree with Ms. DeSouza that either Mr. Nyantakyi or past GFA presidents ought to be blamed for the gross incompetence of our cabinet appointees posted to the the Sports Ministry. Here again, the blame must be squarely laid in the courtyard of the Flagstaff House.