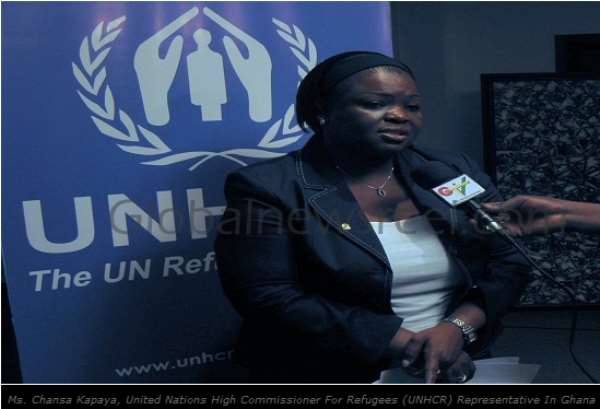 Forcibly displaced refugees from their home countries across the world have scaled up to 51.2 million at the end of the year 2013 from the 45.2 million recorded in the previous year. This anomaly represents an overflow of six million more dislocated persons.
Accusing fingers have been pointed at Syria's incessant war on humanity for the sharp rise in the number with available data showing 2.5 million people were forced into becoming refugees while 6.5 million internally displaced in that country.
Some new major displacement was also witnessed in the Central African Republic and recently, South Sudan.
Despite the prevailing conflicts and wars in these areas, United Nations High Commissioner for Refugees (UNHCR's) annual Global Trends report on refugees released Friday on the occasion of the World Refugee Day, stressed 'the worldwide total of 51.2 million forcibly displaced represents a huge number of people in need of help with implications both for foreign aid budgets in the world's donor nations and the absorption and hosting capacities of countries on the front lines of refugee crises.'
The report is based on data compiled by governments, NGOs and from the UNHCR's own existing records.
UNHCR Antonio Guterres was quoted in the report as saying 'we are seeing here the immense costs of not ending wars, of failing to resolve or prevent conflict.'
He observed that without political solutions to bring about lasting peace, the alarming levels of conflict and the mass suffering reflected in the figures would continue.
'Peace is today dangerously in deficit. Humanitarians can help as a palliative but political solutions are vitally needed. Without this, the alarming levels of conflict and the mass suffering that is reflected in these figures will continue,' Mr. Guterres stated.
And therefore challenged the international community to overcome its differences and find possible solutions to the conflicts in South Sudan, Syria, the Central African Republic (CAR) and other conflict areas.
World Refugee Day in Ghana
In Ghana, twenty Liberian passports affixed with Ghanaian residence permits were presented to five different families during the commemoration of the event in Accra Friday.
As bearers of the passports, it ends their status as refugees and have since become legal residents in the country per their decision to locally integrate.
Fact sheet of refugees by country
As at May 2014, the total of refugees and asylum seekers in Ghana stood at 20,803.
Liberia has three asylum seekers and 5,249 refugees. Cote d'Ivoire has the highest numbers of asylum seekers and refugees in Ghana - 1,004 and 9,602 respectively.
Asylum seekers from neighbouring Togo are 288 persons with 3,415 refugee status, while Sudanese representation is 223 for asylum seekers and 250 persons as refugees. Those described as others include 576 asylum seekers and 193 refugees.
In attempts to avert stigmatization on refugees around the world, Ms. Chansa Kapaya, United Nations High Commissioner for Refugees (UNHCR) Representative in Ghana, said 'Today, we are shifting the focus by asking people from all over the world including 20 celebrities and other high profile supporters to show their support for families forced to flee by sharing a refugee story about extraordinary courage, survival and resilience as well as success stories of refugees restarting their lives in a new country.'
Ghana's Deputy Minister for the Interior, James Agalga requested of the refugees currently in the country to be law abiding and take advantage of the many opportunities being made available to them at their various camps.
'Refugees should eschew violence, consider each other as brothers and sisters and collaborate with their own leadership, the Ghana Refugee Board, the UNHCR and other partners in efforts to ensure that their stay in Ghana is as comfortable as it could be,' he added.
And continued that it was important for them to commensurate the rights they are enjoying with obligations imposed on them by the laws of the country.
Watch Kat Graham's visit to Syrian refugee families