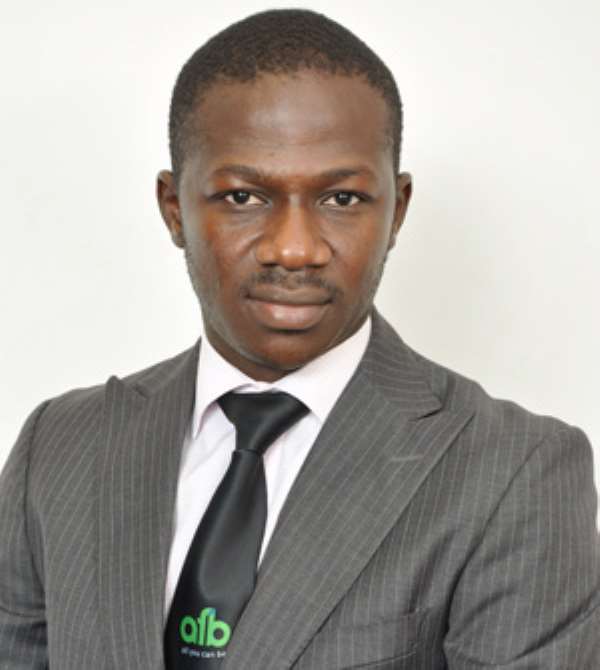 A business desk report
Arnold Kavaarpuo
When Joseph Brenya, a 49-year-old farmer from Mamprono in the Ashanti Region registered with AFB's SmartCash in April 2013, little did he know that he had subscribed to a product that would soon make him a responsible father.
He instantly became very fond of the SmartCash staff because he felt they were 'honest' even though he had shunned other finance institutions.
After meeting the assessment criteria, he was offered an initial loan.
SmartCash is a product of African Finance Business - AFB Ghana Limited, targeted at retailers in Ghana.
Mr Brenya used the loan to buy school uniforms for his kids.
In the next couple of months he worked assiduously.
Aided by additional loans from AFB SmartCash and in August, he succeeded in taking his first son to the university.
Mr. Brenya is one of the oldest customers of AFB Smartcash, who has never been late in repaying and in many instances makes early repayment.
Over the last 10 months, he has secured several loans from SmartCash and repaid all in full.
He had high hopes of becoming a University graduate but after completing his GSSCE Level 4 in 1979, his hopes were dashed.
With his children set firmly on the course of achieving the academic feat that eluded him, he plans to establish a healthy cash flow.
His ambition is to own a big tailoring shop that will employ and train like-minded people to cater for the needs of busy people who do not have time to spend at the tailors'.
Arnold Kavaarpuo, Sales Manager for Smartcash, in an interview with BUSINESS GUIDE asserted: 'This is the story of many a SmartCash customer. These are hardworking women and men who only need a helping hand to realize their dreams. Maybe we will not be able to see them through those dreams but we will help them believe in themselves and enable them take responsibility for their future.'
Mr Kavaarpuo advised Ghanaians, who are desirous of achieving their dreams like Mr Brenya, to approach the AFB Ghana SmartCash team for assistance.
AFB Ghana is a non-bank financial institution with presence in over 23 locations in all 10 regions of the country.
It is part of the AFB Group, which undertakes consumer finance operations in Kenya, Mauritius, Zambia and South Africa.
A business desk report