'Cashgate' audit prompts calls for Malawi president to resign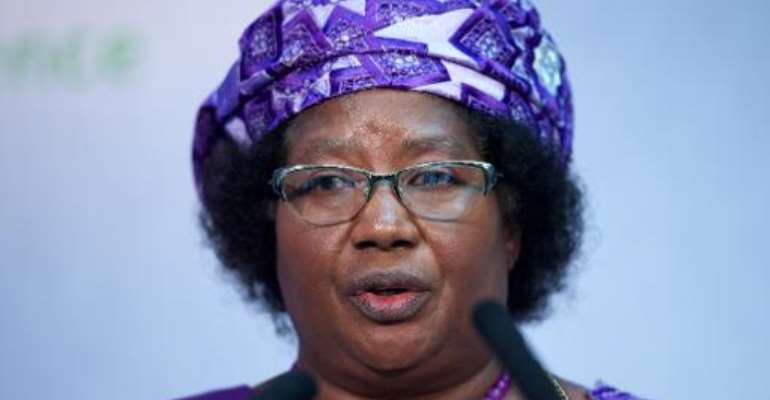 Blantyre (Malawi) (AFP) - Malawi President Joyce Banda faced calls to resign Tuesday, after an audit revealed at least $30 million dollars of state funds had been stolen by corrupt officials.
Barely three months before she asks voters to elect her for a second term, Banda faced calls from non-governmental groups to take responsibility for almost industrial-scale corruption on her watch.
A much-awaited report by British auditors -- commissioned by Banda -- showed that $30 million (22 million euros) was stolen in six months from April to September in 2013, her second year in office.
That equates to more than one percent of GDP, in one of the world's poorest countries, where state services are poor and life expectancy is just 54 years.
"It is immoral and unethical for the president to remain in office," said John Kapito, the outspoken head of the Consumer Association of Malawi, decrying the lack of oversight.
The so-called "Cashgate" scandal has already rocked Malawi for months, causing a chain of events that enveloped politics, business and the economy.
The scandal implicated senior ministers, resulting in Banda sacking her entire cabinet.
Some 68 civil servants -- including many in Banda's People's Party -- and businesspeople are already on trial charged with graft.
Ex-justice minister Ralph Kasambara and four others face trial for the attempted murder of a treasury official who was on the verge of exposing the corruption ring.
Foreign donors, who provide 40 percent of Malawi's budget, froze vital aid worth around $150 million in response.
- Blind justice -
In the end, auditors from Baker Tilly painted a damning picture of fraud and mismanagement that spanned a dozen ministries.
Their report alleged culprits used a central computerised payments system to pay supplies for goods and services that were never delivered.
The transactions -- made to accounts abroad and in Malawi -- were then deleted from the system.
The audit covered almost 370,000 transactions across 11 government bank accounts.
The report did not name culprits for fear of prejudicing on-going or future trials.
That decision was fiercely criticised by some watchdogs.
"We have been let down as the report lacks merit, substance," said Billy Banda, director of Malawi Watch, adding that questions remain about the president's involvement.
"Joyce Banda is a key suspect and there should have been an independent commission of inquiry to deal with this issue."
"She must actually step down because she is a key suspect and Cashgate happened during her watchful eye."
With Banda confident enough to leave the country on Tuesday -- attending a summit in Nigeria -- resignation seems unlikely.
But the fallout from the report is sure to be felt until election day on May 20.
"Cashgate will be the biggest election issue," according to University of Malawi political analyst Ernest Thindwa.
"It will have a significant impact on how people will judge Joyce Banda's People's Party, if she can trusted with the public pulse."
Banda herself admitted she took a "political risk" in launching a "fight against corruption" ahead of elections.
"The fight against corruption must come first, winning elections comes second to me," she said at a national prayer meeting in January.
It is a dramatic turnaround for the 63-year-old, who came to power with strong support from the international community after the death of president Bingu wa Mutharika.
Banda was feted by then US Secretary of State Hillary Clinton and seen as closing the chapter on years of rule plagued by under-development.