I Prayed To Avert Otumfuo's Death—Rev. Owusu Bempah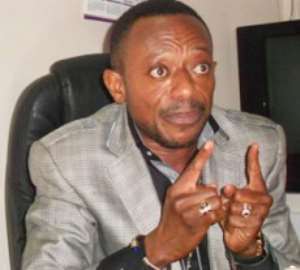 Rumor spread like wild fire when it was alleged that the Royal occupant of the Golden Stool, Otumfuo Osei Tutu II had passed on.
The source of the rumour has not been identified and this made the Head of State Guard at the Manhyia Palace, Nana Baffour Osei Brentuo Hyiaman V to come out to flatly deny the news.
As events unfolded, the head of the Nsumankwa (Spiritual) division of Asanteman, Baffour Asabre Kogyawoasu Ababio III, came out to unleash curses on the faceless people behind Asantehene's death rumour.
But the saga seems to have taken a new twist as the leader of the Glorious Word Ministry International, Rev. Owusu Bempah has disclosed his involvement in the issue.
Speaking in an exclusive interview with Okay FM, the man of God stated that he received a message on 31st December, 2013 that if he doesn't lead a crusade to pray on behalf of the Asantehene, he might join his ancestors soon.
According to him, this gingered him to offer intercessory prayers for the king so to avert the calamity.
"I fell in a trance and the Lord revealed something to me. In that experience, I saw a buck (goat) tied to a tree and I saw a king clothed in his traditional outfit order an executioner to slaughter the animal. As the action was about to happen, I saw another goat which was a nanny come out to save the tied goat. I asked God to explain the revelation to me and He explained to me that the goat I saw was Otumfuo Osei Tutu II, and the nanny was his mother. God further told me that if we don't pray for Otumfuo and his mother, they might pass away. But we prayed for him and his mother and this averted what could have been a sad story".
He advised Ghanaians not to regard him as a doom prophet but rather someone who was simply doing the work of God.
He again pontificated that before the late Komla Dumor met his untimely death, he had received revelations about it, but because the ace broadcaster didn't do anything about it, the unfortunate happened.
"I received same revelations about the late former President John Atta Mills and vice president Aliu Mahama, but because nothing was done about it, they also passed away," he stated.