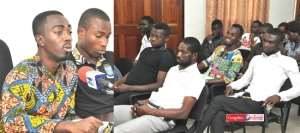 The Students Representative Council (SRC) of the University of Ghana will, on February 11, 2014, organise a students' demonstration against the road tolling exercise on the Legon campus.
The protest, dubbed: "Tweaa demonstration", is one of several options being considered by the students to back their demand for a downward review of a registration fee for students who use cars on campus and a rebate in the toll rates for commercial drivers who serve the needs of students.
Concessions
At a news conference in Accra Tuesday, the SRC said the university authorities had asked students with cars to register with the administration at a fee of GH¢50 per year, so that they (students) would be exempted from the payment of the toll.
It claimed that the decision was arrived at during a meeting with the university authorities last Monday but efforts to contact the university authorities for them to react to the students' claim were unsuccessful.
News conference
The Vice-President of the Legon SRC, Mr Kwame Asare Antwi, said although the SRC was not against the payment of the tolls, the charges were high, while the authorities disregard for certain concerns raised by the students was worrying.
He recalled that the SRC, on January 29, 2014, wrote to the authorities suggesting that students who used vehicles on campus should pay GH¢20 for the registration of their vehicles, instead of the initially proposed GH¢400.
Mr Antwi said the SRC also demanded a rebate on the toll rates for commercial drivers serving the needs of students, so that what it described as the exorbitant charge would not be passed on to students. 
Furthermore, it asked for a reduction in the tolls for public and shuttle services to augment intra-campus transportation.
Mr Antwi said since the tolling started, it had become obvious that the university had not prepared well for the exercise. 
For instance, he added, because work on the toll booths had not been completed, the tolls were collected manually, resulting in a traffic build-up from the Okponglo and GIMPA ends of the roads that lead to the university.
He also said oftentimes, people were held up in the traffic jam for about 30 minutes.
When the Daily Graphic visited the toll booths about 1:30 p.m. yesterday, there was traffic congestion at the Okponglo collection point, which is the main entrance to the university.