Community 11 Police Arrest Suspected Armed Robber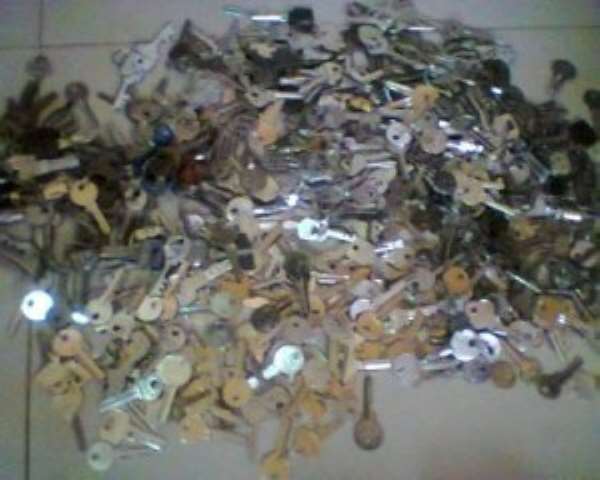 The Tema Community Eleven (11) Police Command has arrested a 43 year-old electrician and a resident of Ashaiman, Dodzi Odonu, suspected to be an armed robber.
However, an accomplice, Baba Razak, of Dodzi Odonu, popularly known as Papa Lucky, is currently at large.
Narrating the incident to the press on Thursday, Supt. Ben Wonkyi said on January 19, 2014, the police had information that the security man of American Towers Company, a   tele-communication company, which also deals in electrical gadgets and cables, was threatened by two suspected armed robbers, Dodzi Odonu and his accomplice, Baba Razak at a gun point.
The two suspected armed robbers insisted that the security man showed them where the company keeps its goods and that after the operation, he will be compensated with a brand new saloon car.
'Because he was controlled by a gun, he patiently obeyed the suspects and promised to keep his mouth shut till the day they return to carry on with their operation', Supt Wonkyi added.
Soon after their departure, the security man lodged a complaint at the Community 11 Police Command.
Supt Wonkyi continued that on the appointed date, January 21, 2014 at about 8:00pm, the suspects returned to loot the goods from the American Towers Company as planned.
'The security man quickly gave the police a text massage indicating that the suspects have arrived to operate.
Immediately, personnel from the Community 11 Police Command laid an ambush, and Dodzi was arrested, but his accomplice managed to escape.
When a search was conducted on him, a bunch of keys which can open almost all manner of doors, spanner, hammer and screw driver were found on him, he noted.
Supt Wonkyi revealed that the bunch of keys, which were retrieved from him, indicates that armed robbers have adopted a new method in their operations and that he had never come across such overwhelming bunch of keys.
Supt Wonkyi appealed to the general public to endeavour to cooperate with the police by volunteering the necessary information to reduce crime to the barest minimum in the Metropolis.