Vodafone rewards Winners of One Ghana Essay Competition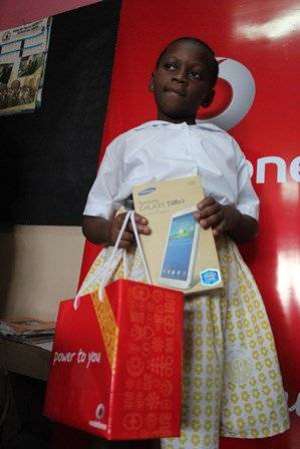 vodafone winner
Accra, Nov.3, GNA - The first batch of winners for the One Ghana essay competition have received their fully connected Samsung Galaxy Tablets from Vodafone Ghana.
The winners include, Maruf Osman and David Owiredu from Immaculate Conception R/C School, Isaac Kyei from Perfect Primary, Baba Shardow from Datus Complex, Davina Fenuku from Vichans school and Tiffany Adike Kpentey.
Davina Fenuku, a six -year- old pupil from Vichans School in Abelemkpe, Accra, the youngest among the winners wrote in her essay that if she had One Ghana cedis she would buy soap and a small towel and start a hand washing campaign in her school so that her colleagues would wash their hands after using the bathroom and playing.
The One Ghana Essay Competition dubbed: 'What can I do with One Ghana,' was launched a few weeks ago by Vodafone Ghana in partnership with Samsung to promote creative writing and thoughtful spending among children under the age of 15.
Children of 15 years and below are encouraged through the competition to write what they can do with One Ghana Cedi and mail their entries together with a used Vodafone top up card to the Vodafone One Ghana Team or drop it off at any Vodafone retail shop nationwide.
A panel of judges chooses winners based on innovation, originality, clarity, composition and grammar and realistic ideas till the end of December.
Vodafone Ghana will be giving away fully connected Samsung Galaxy Tablets throughout the three months competition and a full year scholarship from Vodafone Foundation to the ultimate winner at the end of the competition.
GNA