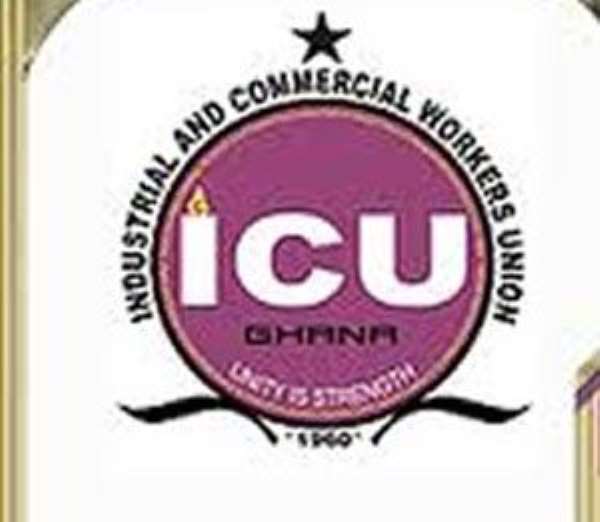 ICU
The Industrial & Commercial Workers Union (ICU) says the unbridled open market economy in Ghana is worsening the woes of local industries.
The ICU, which made this known in a recent press statement signed by Solomon Kotei, General Secretary of ICU-Ghana, said industries are finding it difficult to even attempt any legitimate increases in the prices of their products because of the battle with very cheap and substandard imports.
'It is sad to know that we have opened our borders and ports too wide for undeserving foreign goods such that all kinds of things are being imported into the country.  We seem to have over liberalized the Ghanaian economy.
'There is the need to re-examine our national policies with another lense before we are overtaken by events.  The perception by most Ghanaians that anything foreign is good is not helping the economy.'
It stated that resorting to foreign consultants on programmes and projects to the detriment of qualified Ghanaian technocrats is not helpful for growing the economy.
It said it has been struggling to appreciate threats from employers who want to embark on redundancy exercises to salvage the situation.
'Our records show that there is a flood of letters of notification to the union of layoffs ranging from three to seventy workers.  Our position is that, what is happening to industry now should not be toyed with, especially when one comes face to face with the reality on the ground.
'The ICU is gradually sensing the formation of a dark cloud over Ghanaian local industries.'
Some years ago, ICU cautioned that the open economy could kill the country's textile industry.
'Now the Chinese have taken over the market while we look on helplessly as Akosombo and Volta Textiles are virtually strangulated and gasping for support.  If we keep saying let's grow what we eat, let's eat what we grow, let's wear what we produce and let's sell what we produce and these things are still happening, then ICU, just like any other individual, will not need a soothsayer to say that the future is bleak for the economy.'
The ICU said it was saddened that a lot of micro businesses were closing daily, adding that it was not a secret that the Registrar General's Department registers a good number of new small-scale enterprises almost each year, but very little attention is given to their survival.
It therefore urged Government, policy makers, and managers of the economy, to take practical steps to ensure growth in small-scale industry.
Special attention should also be paid to the major companies as they struggle to survive.
Private sector employers have since 2010 been complaining bitterly about the threat to their survival and the tendency to close down their businesses.  Some have even gone to the unfortunate extent of notifying the union of imminent laying-offs.
ICU is the largest industrial labour union in Ghana organizing over 75,000 employees in various occupations across the various sectors of the economy including those in the informal sector.
  By Samuel Boadi