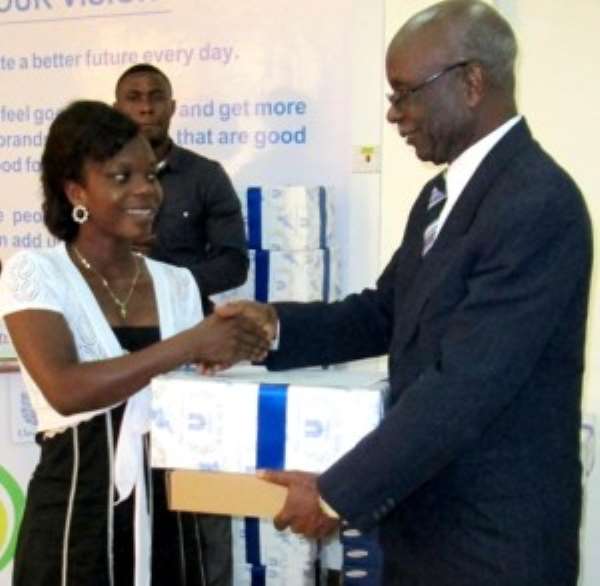 Sixteen female graduates, drawn from public universities and polytechnics across the length and breadth of the country, have been honoured by the Unilever Ghana Foundation for distinguishing themselves in their various fields of study, at its 15 th Excellence Award ceremony here in Tema.
The award was also to draw attention to the significant role of women in the country's socio-economic development.
The ceremony is an annual event, organised by the company to honour female students from public universities and polytechnics, who have been adjudged best graduates by their respective institutions.
The names, educational institutions, and areas of study of the respective awardees are, Hassan Addai-Boateng – KNUST, BSc Microbiology; Theophiline Bose-Duker – University of Ghana, BSc Economics; Sandra Naana Ayiku – University of Ghana, BSc Administration; Nana Abena Quansa – University of Cape Coast, BSc. Commerce.
The rest are Hilda Akosua Bru-Minda – Takoradi Polytechnic, Electrical Engineering; Rebecca Ackaah-Mensa – Sunyani Polytechnic, Electrical/Electronic Engineering; Gifty Bani – Ho Polytechnic, Electrical Engineering (Telecom Option); Baafi Emelia – Kumasi Polytechnic, Marketing, and Mary Bonsu Oteng - Cape Coast Polytechnic, Electrical Engineering.
Addressing the gathering, the Chairman of the Trustees of the Unilever Ghana Foundation (UGF), Mr. Andrew Quayson, revealed that 'Our primary objective is to facilitate the socio-economic growth of Ghana, albeit in our own small way.'
He added: 'We are committed to continuously finding innovative ways of offering value-adding interventions to bring our objectives to life.'
He noted that their main concentration was on the sciences, with emphasis on technical education and engineering, as they believed that the country needed more professionals in these fields, in order to develop further.
Unilever Ghana (UG), which is the donor of the UFG, have a deliberate policy of gender diversity, which seeks to facilitate the rapid development and progress of females in the company, by providing conducive environments to enable them thrive and compete favorably with their male counterparts.
Mr. Quayson continued: 'The varied programmes on women we support are our way of driving the development of resourceful female leaders in both the informal and formal sectors of our society.'
Each of the 16 awardees was presented with a Samsung notebook, assorted Unilever products, and a certificate, after which they were later conducted round the two factories of the company to familiarise themselves with the operations of their benefactor.
The awardees expressed their heartfelt gratitude to the organisers of the programme for putting together such a ceremony to honour them gracefully, and vowed to be good models to other female students across the country.