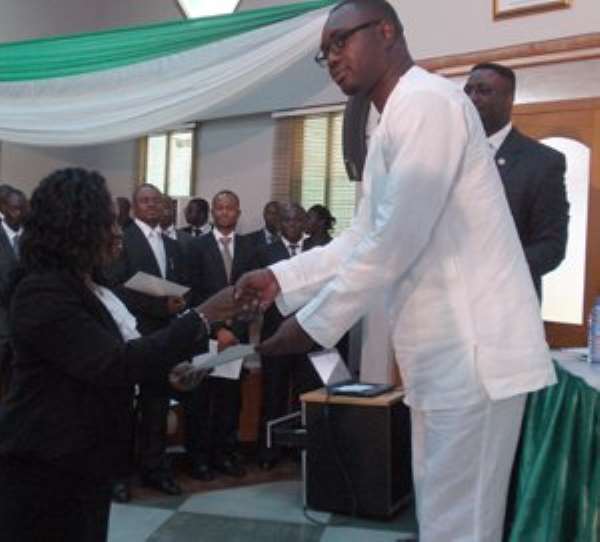 One of the forest prosecutors receiving her certificate from Mr. Samuel Afari Dartey.
MINISTER OF Lands & Natural Resources, Alhaji Inusah Fuseini, has called on the Forestry Commission to enforce forestry regulations in order to deal with people who engage in illegal forest activities.
He said despite interventions such as the use of Timber Taskforce, the introduction of the Rapid Response Team, embarking on massive reforestation and plantation development programme among others, illegal forest activities still continued to be reported.
Apart from agricultural expansion and wildfires which contribute over 60 percent of the drivers of deforestation and degradation, illegal harvesting of wood for various purposes contributes about 35 per cent of the causes of forest loss.
'We have reached a critical stage where we need to enforce the law to the latter to deal with this indisciplined behaviour of a section of the sustainability of our forest and wildlife resources,' he said.
The sector minister made this statement during a ceremony to swear in the first batch of 28 newly-trained public prosecutors of forest and wildlife related offences in Accra.
Alhaji Fuseini said the perpetrators of the illegal activities, due to their selfish motives, sometimes end up killing innocent and hardworking staff, as it had already claimed the lives of two people in the year.
'We want to see a complete transformation in the way illegal forest and wildlife cases are handled in the courts,' he said.
Administering the oath of secrecy and commissioning on the prosecutors, Chief Justice, Her Ladyship Georgina Theodora Wood, represented by Justice Ernest Obimpeh, a High Court judge, said the training of the forest prosecutors would bring to the criminal prosecution process institutional knowledge in preparing proper charges for specific forest and wildlife offences.
Dorothy Afriyie Ansah, Chief State Attorney, representing the Minister of Justice and Attorney-General, Marietta Brew Appiah-Oppong, challenged the prosecutors to gather proper evidence during their investigation of cases that link the accused person(s) to the offence preferred against them.
'During your investigations, you should collect and record information that fully identifies the accused person(s).'
She also called for the establishment of a legal assurance system and a wood tracking system in the country.
Samuel Afari Dartey, Chief Executive Officer of the Forestry Commission, said the prosecutors had been imbibed with what it takes to accomplish a succinct prosecutorial task, adding that the commission together with its various stakeholders would continue to roll out initiatives aimed at protecting and managing sustainability of forest and wildlife resources in Ghana.
 By Jamila Akweley Okertchiri