State paid GH¢26,000 judgement debt to civilian for assault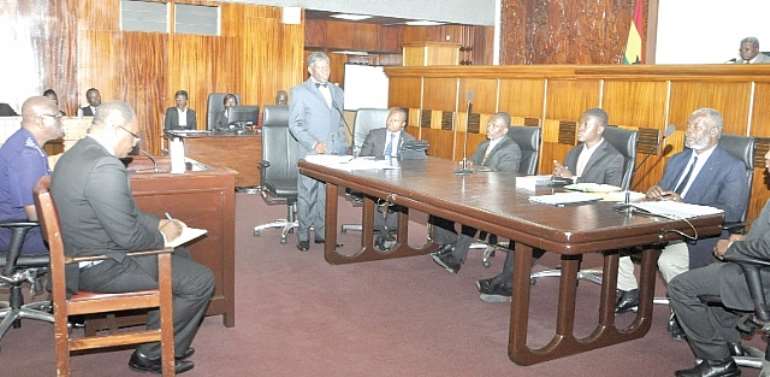 The state paid a judgment debt of GH¢26,000 in 2006, following an assault on a civilian by an officer of the Customs Division of the Ghana Revenue Authority (GRA).

The incident, which happened at Aflao involved Evans Gu, the customs officer and one Faustina Eworho.
This came to light at yesterday's sitting of the Judgment Debt Commission at the Old Parliament House in Accra.
It also emerged that although the customs officer was arrested and put before court for assault and even paid part of the medical expenses of the victim, the judge ordered that since the officer was working in his official capacity, it was the state that must be sued.
As a result, the Attorney General was sued, culminating in the payment of the judgement debt.
The acting Commissioner of Customs, Mr Isaac Ofoe Apronti, who appeared at the sitting to explain the forms of disciplinary measures taken against errant officers such as Gu, indicated that when an allegation was levelled against an officer, the person was first of all queried.
After the person had responded to the query, he said, the matter was referred to the investigations department of the service, which would do a preliminary investigation into the particular case.
'After that the matter is referred to a disciplinary committee depending on the outcome of the preliminary investigation. The disciplinary committee comes out with its findings and recommendations that go to the management of the whole division or jurisdiction where the matter arose,' he said.
Following that, the Customs boss said management would take a decision on whether or not to take disciplinary action against the errant officer.
Asked by counsel for the commission, Mr Dometi Kofi Sokpor, what action was taken in the case involving Gu,  Mr Apronti said the incident had just come up to his notice.
'It happened at the Aflao collection so I have asked the sector commander to look through the files and find out exactly what happened. Again we are asking the Human Resource and Accounts sections to find out the circumstances under which the said judgment debt was paid,' he said.
He said assault was a major offence, and, therefore, the outcome of the recommendations of the disciplinary committee ought to be referred to headquarters.
The matter was adjourned to August 7, 2013.
Earlier,a State Attorney from the Attorney General's Department, Ms Helena French, who also appeared before the commission, asked for some time to gather information on the matter in which a judgment debt of GH¢1,450,000 was paid to one Henry Osei Dankwa, whose stores were demolished in Kumasi in 2007.
'We are only craving the indulgence of this honourable commission to give us some time to allow our Kumasi office to look for the file and then get somebody to speak to it,' she said.
The commission fixed August 12, 2013 for further hearing of this matter.
By Emmanuel Bonney/Ghana