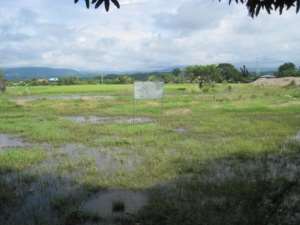 A poverty economist at the Free University in Amsterdam, Netherlands, Dr Bart van den Boom, has expressed disquiet about leasing out of lands in Ghana to foreigners for long years.
He described as 'untenable' how many lands were going into foreign hands for 50 years and above and cautioned that the foreigners would impoverish Ghanaians if the practice continued.
Speaking at a lecture at the Kumasi Polytechnic, Dr Boom said land was an invaluable asset that must be protected at all cost for future generations.
He spoke on the topic, 'High growth, North-South divide and foreign ownership: outcomes of a micro-macro simulation model of the Ghanaian economy.'
Dr Boom touched on the Ghanaian economy and said it was not a hopeless one.
He pointed out that the fact that the economy was fragile did not mean that all was lost, especially if the country played its cards well.
'The high growth recorded in many key sectors of the economy in the last few years gave ample testimony that all is not lost,' he said.
He, however, expressed concern about some of the economic policies adopted over the last few years and cautioned that they could put the economy in danger.
Dr Boom mentioned, for instance, the over-dependence on foreign financial support to run the economy, which he said placed the economic development in the hands of foreigners.
He questioned why foreigners, who won contracts in Ghana, were able to negotiate well with the government than their local counterparts.
'I think contract negotiations by locals should be professional enough so that fairness would prevail,' he added.
He indicated that Ghana did not bargain well in the sharing of oil revenues. 'The 80-20 sharing formula puts Ghana at a disadvantage position'.
The Rector of Kumasi Polytechnic, Prof. N.N.N. Nsowah-Nuamah, in his introductory remarks, said the polytechnic was happy to host Dr Boom who had a rich experience on matters concerning the Ghanaian economy.
Dr Boom had over the last 20 years been visiting the country to undertake various official assignments.
By Kwame Asare Boadu/Daily Graphic/Ghana