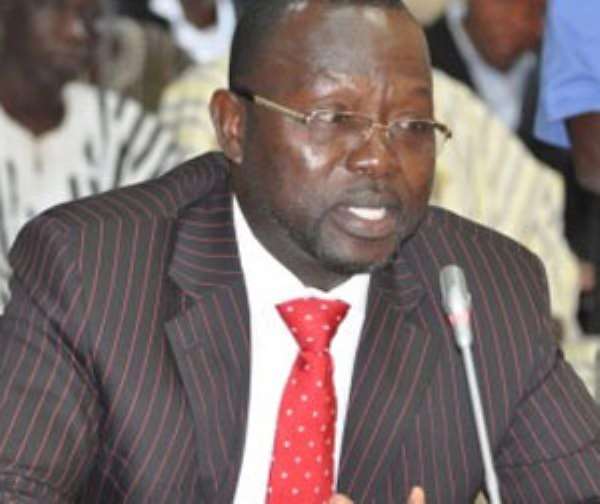 Dr. Dominic Ayine
THE ATTORNEY General has beaten a hasty retreat from the claims that they 'researched and supported' Martin Benz Kaiser Alamisi Amidu in his landmark Supreme Court victory against Waterville Holdings Ltd, where the company was ordered to cough up €40million judgment debt wrongfully paid to it.
In the wake of the Friday June 14, 2013, Supreme Court's ruling and the subsequent
accusation by former President Jerry John Rawlings that Mr. Amidu was abandoned to fight the case alone, the Attorney General's Department issued a statement claiming it indeed supported Mr. Amidu in clinching his famous victory.
'Contrary to the impression created by various media reports that Mr. Martin Amidu was left on his own to fight this case against Waterville, the Attorney General's office researched and supported the filing of processes leading to our identification with and support for Mr. Amidu in
the matter of Martin Amidu vrs. Attorney General, Waterville (BVI) Holdings, Austro-
Invest and Alfred Woyome. These are matters of public record and can be verified from the Registrar of the Supreme Court,' this was a statement signed on Wednesday by Deputy Attorney General, Dr. Dominic Ayine.
But Mr. Amidu, aka Citizen Vigilante, issued a quick rebuttal to these claims, stating that he was in no way helped by the AG. 'Well, why are we fighting over who takes credit for a judgment in vindication of the Constitution? I am sad that a Government supported by my own political party is spinning even a simple and glaring case. I do not want any credit for the Supreme Court's decision. The Constitution of Ghana has won,' the former Attorney General charged in a statement issued in reply.
U-TURn
Mr Amidu's challenge prompted a quick turnaround from the AG.
'The research that we are talking about is in respect of our statement of case, it is not in respect of Martin Amidu's case that he brought to court. After all it was his writ and statement of case that generated the issues,' Dr. Ayine was quoted as saying on Thursday.
He declined to make any comment when contacted by DAILY GUIDE on Thursday.
He fumed: 'I am not going to talk to the media again on this matter, period…you people just love controversy and knocking heads together so that Amidu and I would keep at each other so that you keep reporting or something?'
But after much persuasion, he stated '…I said the support was in relation to our statement of case, what else do you want me to do? Did I mention any filing fee? Did I mention any research that we did for him? Did I mention that we wrote his statement of case for him?'
On Friday, June 14, 2013, a nine-man Supreme Court panel ruled unanimously for Waterville Holdings to cough up €40million judgment debt that was wrongfully paid to it by the National Democratic Congress (NDC) government between 2009 and 2011.
Mr Amidu, a former Attorney General who was sacked by the NDC government for his dogged resolve to go after the dubious judgment debts paid by the then John Evan Atta Mills government, has received widespread accolades for his singular effort at recovering for the state dubious judgment debt payments
By Raphael Ofori-Adeniran