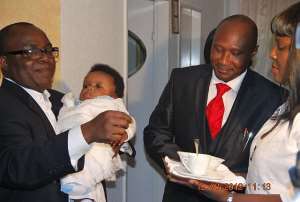 Hamburg, Germany is a city of celebration. It is therefore presumed that, making a tour in Europe would not be complete unless the itinerary journey is linked to Hamburg.
It is cosmopolitan city – with a population of people from several countries living together with different languages, customs and cultures. The Ghanaian immigrants especially those from the "Akan" speaking territories (Regions) of Ghana have got taste and class. The indigenous "Akan" is skilled in exploration of money avenues and good at spending.
In fact no individual or group of people outside their domain could challenge those "Akans" when it comes to celebrations, ranging from child outdooring, wedding, up to funeral processions.
One needs not to be told but worth witnessing an extra ordinary event that climax the celebration of three-in-one package (Naming ceremony, Matrimonial Blessing and Dinner party)
The couples, Pepra and Naomi organized the naming ceremony of their newly born baby at their Steilshoop residence after which he whisked his wife in a convoy to the altar to perform the matrimonial blessings "YES I DO" at the True Wine Church – (one of the fast springing Mega churches in Hamburg) which was officiated by Apostle Osei Tutu, the Church resident pastor supported by Apostle Bona Boateng, a guest pastor from the Bethel Assembly.
The program ended at "Blumen House"-Holstenhofweg 57, Hamburg over the weekend, Saturday 18 August, where dinner party session was held with the couples' family members and dozens of love ones.
Sight attraction of the event was when the couples were ushered into the hall by escort of selected family members amidst dancing of "Adowa" traditional music with melody.
Immediately after that, with applause from the audience, Mr. and Mrs. Peprah were asked to open the floor in the tune of gospel music "Afunumuba" a song composed by Cecilia Marfo. "We give all praises and adorations onto God, for He's good and mighty"
The chairpersons of the occasion were: Mr. Teddy Danso and Mr. Yaw Barimah however were supported by two beautiful chairladies in the persons of Madam Francisca Mensah and Mrs. Mercy Duah respectively supervised all activities. In his speech, Mr. Danso thanked the invited guests and urged them to rally behind him to grace the occasion successfully.
The Master of the ceremony (MC) Elder Opoku, DJ Clif, Video /Camera team: Bonsu aka Obuoba and Oforione played their roles in discharge of their professional duties.
The family of Nana Peprah capped off the event with millions of thanks to all the invited Guests especially the organizers whose efforts and diverse contributions have brought the program to a peaceful end.
Report by: Mensah Dekportor (Hamburg)
www.topafric.com Tel. +49(0)1759861348