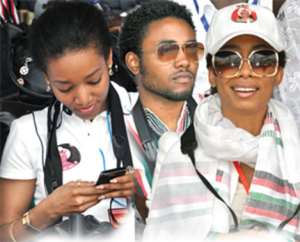 The cat is now out of the bag, the Al-Hajj has now established the secrets behind the sudden about-turn of former President Rawlings and his wife Nana Konadu Agyeman Rawlings in supporting the candidature of their arch-rival and former political foe Nana Akufo-Addo of the opposition New Patriotic party (NPP).
The Al-Hajj can report today that Kimathi Rawlings, the son of former President Jerry John Rawlings, is nursing the desire to marry Adriana Dukua Akufo Addo, one of the daughters of the presidential candidate of the opposition NPP, Nana Akufo Addo.
Very dependable sources within the Rawlings and Akufo Addo families have revealed to your most reliable Al-Hajj that one of the grandiose weddings to be witnessed in Ghana in recent times is about to become a reality.
Jerry Rawlings' only son, Kimathi, according to our sources, will be wedding one of the daughters (in fact the most loved daughter of her father) of Nana Akufo Addo, Adriana Dokua, at a date yet to be agreed upon by both families. The three other children of the Rawlingses are Ezanator, Amina and Yaa Asantewa.
Our source disclosed that the two love birds have since received the full blessings of their respective parents, whom we are told are full of excitement.
It will be recalled that Rebecca Akufo-Addo, wife of the New Patriotic Party (NPP) presidential candidate, Nana Akufo-Addo was quoted by the media to be full of praises for Kimathi's mum, Nana Konadu Agyeman-Rawlings for her boldness.
"I was not a supporter of the 31st December coup, but I must say that, as a woman, I admire and respect the boldness and perseverance of Nana Konadu Agyeman-Rawlings," Rebecca Akufo-Addo told a gathering of students at Kwame Nkrumah University of Science and Technology (KNUST) recently.
Also, Kimathi's dad and NDC founder recently at the 33rd anniversary celebrations of June 4th at Aflao in the Volta region was reported to have virtually endorsed Dokua's father, Nana Akufo Addo for the December presidential polls when he said "I will very much wish that my party will win, but how can you win, how can you beat Nana Akufo-Addo of the NPP when you are rejecting the values of June 4th?"
According to Jerry Rawlings, he was not surprised the NDC is on the path to failure because President Mills himself admitted during an interview that there is nothing wrong with NPP flagbearer Nana Akufo-Addo becoming president of Ghana.
For close to two decades, the former Airforce pilot-turned Head of State and president of the Republic of Ghana, for obvious reasons, detested the legal luminary and ace human right campaigner and now flag bearer of the opposition New Patriotic Party (NPP), Nana Addo Dankwa Akufo Addo.
On May 11th 1995, Nana Akufo Addo together with the likes of Kwesi Pratt Jnr., Dr Wereko-Brobby, Dr. Nyaho-Tamakloe, Stanley Adjiri Blankson, Kakraba Cromwell, Akoto Ampaw and Abdul-Malik Kweku Baako Jnr; as leaders of a pressure group, the Alliance for Change (AFC), led nearly one million demonstrators to protest against what they described as the high-cost of living in Ghana, particularly the introduction of Value Added Tax (VAT).
These protests nearly collapse the Rawlings' National Democratic Congress (NDC) regime.
Nana Addo has since become a 'persona non grata' to the maverick crowd-catcher and former chairman of both the Armed Forces Revolutionary Council (AFRC) and the Provisional National Defence Council (PNDC) Jerry Rawlings.
Jerry Rawlings at a point in recent times deliberately avoided pronouncing the opposition leader by name, retorting; "…What is his name…., I mean, that short man?"
However today, as it's often said 'life is full of surprises…, and 'never-say-never'. All that is becoming history as providence has not only united the once arch foes but indeed, they are father in-laws in the making.