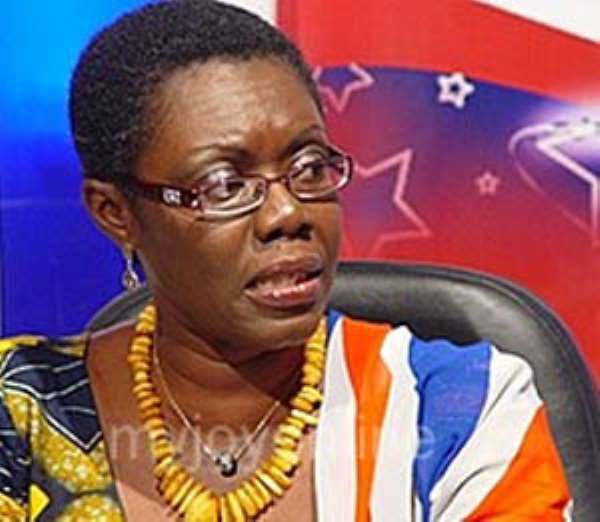 In order to become the master, the politician poses as the servant. ~Charles de Gaulle.
In Ghana's political arena she is known as the queen mother of foul language. She has an acidic tongue that can spew a lot of gibberish into the air on any given day. That seems to be her trademark. When she goes on air, she insults everybody and everything on sight thinking she is the best brain and the all-knowing person around. Nobody begrudges her because her party, the NPP, needs people of her calibre to do its dirty job. In case you still do not know whom I am talking about, please let me introduce to you the NPP Parliamentary candidate for Ablekuma South, Ursula Owusu.
Ursula Owusu has hustled her way to fame in the NPP circles as not only the "buga buga" politician who can go on air and slight President Mills at will, but she also doubles as the alleged consort of the NPP flagbearer, Nana Akufo-Addo. As a result of her dual role in the NPP, she walks on everybody with her domineering posture thinking everybody has to kowtow to her.
This is the lady who has decided to contest the Ablekuma South constituency on the ticket of the NPP in the upcoming December elections. But ever since she won the NPP primaries in that constituency something strange seems to have befallen Ursula Owusu. Owusu seems to have toned down on her insults as a way of putting up a good face and image building to deceive the people in her constituency into electing her as their next parliamentarian.
But as the leopard doesn't change its spot, Ursula Owusu is back in the news again. She is reported to have stated that as much as the NPP is all for issues based campaign which is devoid of their lies and diatribes, the party members will not tolerate any verbal attacks directed at their flagbearer, Nana Akufo-Addo. In fact, Owusu was reported to have added that the NPP will reply in equal measure any slanderous things launched against Akufo-Addo, and that one is non-negotiable.
Ursula Owusu, who was on Peace FM, also admonished public speakers and the media to be guarded by what they say and to always have it at the back of their minds that Ghana comes first. Excellent advice, but it seems Ursula Owusu is eight years late with this kind of advice. Where and when Ursula learnt that public speakers and the media have to watch their utterances, I do not have a clue. She does. I cannot image this lady who laces her biting comments against her political opponents with profane innuendos now admonishing others to be careful with what they say.
Please wait a minute more, Ursula was not done yet. Now here is a direct quote from Ursula, "We should be circumspect in our speech and focus on selling our message instead of vilifications; without getting personal. What has someone's personal issues got to do with his campaign. I don't know which man will boldly say that ever since he got married he has been faithful to his wife, if there is such a person, he should stand up for all of us to applaud him."
Now why do you think Ursula veered into this gallery? Akufo-Addo has been accused of many, many things. These accusations are not personal insults. How can you claim that Akufo-Addo is being insulted if people simply demand why he released the assets of an internationally known drug baron, Raymond Amankwah, his brother-in-law, back to him when he was the Attorney General? Or if I asked Akufo-Addo to explain why he cheapened Ghana's diplomatic passport by issuing one to a drug baron, would you consider that as an insult? If you put these questions to Akufo-Addo you are just questioning his judgment on issues, but not insulting him.
Ursula Owusu also stated that someone's personal issues have nothing to do with his/her campaign. Hey Madam Lawyer, it does if you are seeking public office to be paid with public money. Ursula, you personal issues would be on the table, because if you are a known thief the people of your constituency have to know in order for them to make their own decisions as to whether to vote for you or not to become their representative in parliament. Or if you have ever gone to jail or have something lurking in your cupboard the public has the right to know because at the end of the day, you will draw your salary from the sweat of the public who pay taxes. I do not think if you have a criminal record and apply for a job at the Bank of Ghana or any other reputable corporate institution; you are going to get the job if their background checks confirm it. We are talking about someone who is aspiring to become the Commander-in-Chief of Ghana. Therefore, if Akufo-Addo's judgment on critical issues that will affect the country's national security and safety is questionable, Ursula, I am telling you, we need to know. This should rather be the non-negotiable issue.
Ursula Owusu is currently not married. Probably she never will, because she may be enjoying the comfort of someone's husband. Otherwise, how dare her say that she does not know of any man in Ghana, who will boldly say that ever since he got married, he has been faithful to his wife. This is the most insulting comment to men of this country, and I urge men in her constituency to take note. They should rebel by not voting for her. Is Ursula saying that every married man in Ghana is sleeping around with other ladies? Hell no! This is very offensive to men.
I am telling Ursula that there are thousands upon thousands of men in Ghana today who have never ever slept with other women since they got married. And I am putting it to her that if men in her party are doing that, so be it, but she should know that other men are faithful, love their wives and do not go chasing after other skirts. Therefore, that generic statement by her is simply baloney and has no place in this country. I know that there are some men who have been unfaithful to their wives but to make such a sweeping statement accusing all married men of sleeping around is simply wrong, disrespectful and unacceptable.
I am even disgusted that Ursula Owusu even challenged faithful married men to stand up for applause, thinking that there are none in Ghana. Somebody tell this lady that there are multiple men with impeccable moral characters walking on the streets of Ghana. And it is because of her so-called loose lifestyle which is why Ursula has not yet found any good man in Ghana leading her to be chiseling around other people's husbands. Therefore, if she wants to justify her own low moral standing, Ursula Owusu should never drag everybody into it. What she said was reprehensible, offensive and insulting to Ghanaian men. And I reject it because I have brothers who are morally upright.
http://majjacks80.blogspot.com
[email protected]