Galamsey operator arrested for murdering his brother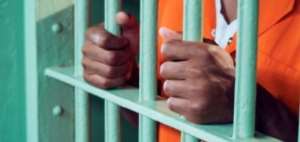 Nkawkaw, Feb. 23, GNA – Kwabena Debra, a 27-year-old galamsey operator, has been arrested by the Nkawkaw Divisional Police for murdering his elder brother at Akoase in the Birim North District.
Deputy Superintendent Police (DSP) Kwaku Duah, the Nkawkaw Divisional Crime Officer, told the GNA that on February 22, while the deceased, Kwaku Boateng, was asleep with his wife and two children, Debra forcibly broke into the room with a sharp cutlass and butchered him to death on his bed.
He said Debra then fled into the bush after the incident but with the assistance from the youth in the town he was later apprehended and handed over to the police.
DSP Duah said during interrogation Debra accepted responsibility and accused the deceased for selling their father's land to galamsey operators without giving him his share of the money.
He said Debra told the police that he smoked a quantity of Indian hemp and drank alcohol before murdering his elder brother.
DSP Duah said Debrah had appeared before the Mpraeso Circuit Court and was remanded into police custody to reappear on March 22.