Bongo party claims absolute majority in Gabon election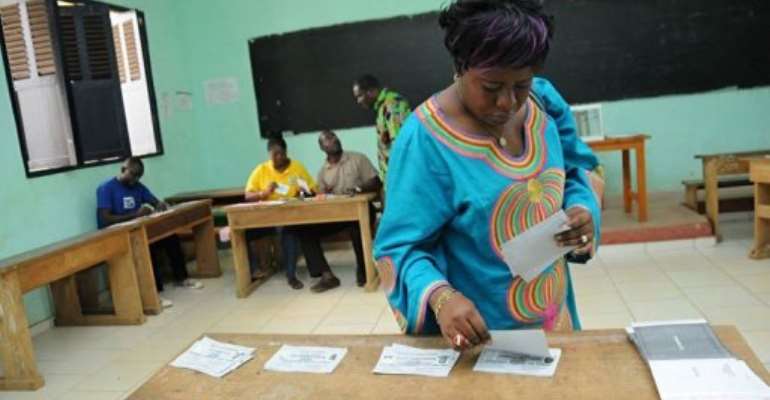 LIBREVILLE (AFP) - President Ali Bongo's Gabonese Democratic Party (PDG) claimed Sunday to have won an absolute majority in general elections that were boycotted by many opposition groups and voters.
The party had won at least 73 of the 120 seats in parliament and its final tally was expected go higher, said a PDG source close to the interior ministry.
Official results are expected "probably Thursday", according to the electoral commission.
In all, 13 opposition groups urged supporters not to vote. They wanted the government to implement biometric voter security measures, such as fingerprinting, as a way of preventing fraud.
"No biometrics, no transparency, no elections," opposition groups said in a statement Sunday, and thanked Gabonese voters for abstaining.
Official turnout numbers were not available, but poll officials in the northern town of Medouneu, an opposition bastion, said the participation rate at several polling stations hovered between 10 and 40 percent.
At two voting stations in the capital Libreville, only 61 people of 704 registered voters had cast their ballots, election commission official Germaine Mianga said.
Saturday's vote was the first parliamentary election since Bongo's father Omar died in 2009 after 41 years in power.
Bongo, 52, campaigned on his economic achievements and Gabon's co-hosting of the 2012 Africa Cup of Nations with Equatorial Guinea, an event that has spurred major investment.
Leading opposition figure Andre Mba Obame was among those urging people not to vote, claiming Friday the PDG would "stuff ballot boxes."
A total of 746,000 people were registered to vote in the west African country of 1.5 million inhabitants -- sub-Saharan Africa's fourth largest oil producer.
Despite the recent emergence of a middle class, income disparities remain huge, with more than half of the population living on less than two dollars (1.5 euros) a day.
Inspired by the Arab Spring and a string of protest movements against long-standing rulers in sub-Saharan Africa, Gabon's opposition initially looked to mount a serious challenge, but then split on the boycott issue.
Guy-Bertrand Mapangou, PDG chief of staff, dismissed the calls for abstention, saying voters often shunned polls anyway.
"The opposition thinks that when there is abstention, it's because they've asked people not to vote, but abstention is part of the course in all elections," Mapangou said.