December 15, 2011
|
General News
Bishop Martin Darko Resigns On Health Grounds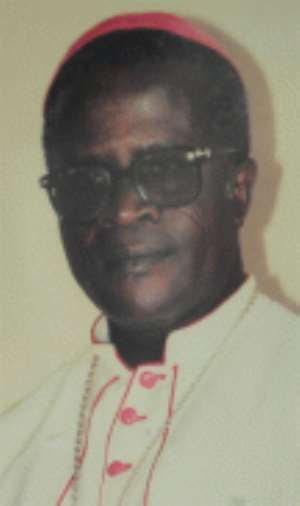 The Catholic Bishop of the Sekondi/ Takoradi Diocese, the Most Reverend John Martin Darko, has resigned on health grounds.
His letter of resignation to Pope Benedict XIV has been accepted.
In an interview, Bishop Darko told the Daily Graphic Wednesday that his health had not been good for some time now, hence his decision to resign to concentrate on his health.
In Bishop Darko's stead, the Pope has appointed the Metropolitan Archbishop of Cape Coast, the Most Reverend Mathias Kobena Nketsiah, as the Apostolic Administrator Sede Vancante for Sekondi-Takoradi until a new bishop is appointed.
Bishop Darko was born at Aboadze in the Western Region on May 30, 1945 and ordained priest on July 25, 1976.
In July 1998, he was appointed Bishop of the Sekondi/Takoradi Diocese and ordained bishop in October 1998, a position he held until his resignation.
He was described by the late Pope John Paul II as "a real colossus" whose work and deeds should be seen as a pride to the world and the church in particular.
The news of Bishop Darko's resignation has saddened his congregants, who described him as their biological father.
"He was approachable and always wore a smiling face that gave comfort to us the congregants. We always wanted to see him to discuss one issue or another with him," some congregants told the Daily Graphic.
They said they would have wished that the bishop stayed on much longer but said since it was a matter of health, it would be better for him to step aside to concentrate on his health.
Asked about the effect of his resignation on the congregation, Bishop Darko said he was aware that members of the diocese were sad, but said he was left with no option but to inform the Pope about his decision to take care of his health.
"The Pope was notified, he agreed to the decision and he accepted that I have to step aside. The decision of my resignation was announced today across the world," he said.
Addressing a press conference to officially announce Bishop Darko's resignation, the Assistant Secretary General of the National Catholic Secretariat, Father Emmanuel Abbey-Quaye, said, "Archbishop Nketsiah has been asked to govern the Sekondi-Takoradi Diocese, with all the inherent faculties, until a new bishop is nominated."