Accra Brewery awards University of Ghana students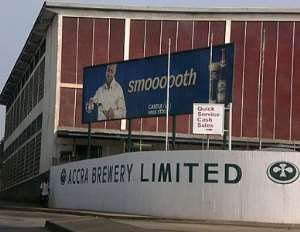 Accra , Nov 29, GNA - Accra Brewery Limited (ABL) has presented awards to two students of the Department of Food Process Engineering at the University of Ghana, Legon for excellent academic work.
The award winners, John Kwame Bediako, who is the best student for the 2010/2011 academic year, and Josephine Aku Holanyo Ecklu best student for the 2009/2010 academic year, each took home a laptop computer and a cheque for GH¢ 2,000.
Mr Kevin Osborn, the Technical Director of Accra Brewery Limited, said ABL was happy to be sponsoring the awards in the past four years.
"Accra Brewery is once again happy to be sponsoring this award. We began the partnership with this institution in 2007 and each year till date, we have students from this department coming into our business to undergo an internship. Two of the former students are currently employed by Accra Brewery," he said.
"We congratulate the award winners and hope they will continue to excel in their chosen careers as well as remember the role Accra Brewery played in their development."
The award winners expressed their gratitude to ABL for the opportunity to work as interns with the company and called for continuous support to strengthen the relationship with the Food Process Engineering department as well.
Accra Brewery Limited partnered the University of Ghana in October, 2007, in order to expose students of the Food Process Engineering Department within the Faculty of Engineering, to the theoretical and practical aspects of their field of study, as well as enrich their learning experience.
Since the inception of the partnership, Accra Brewery has admitted level 300 students of the department as interns to undergo an 8-week programme on an annual basis.
GNA