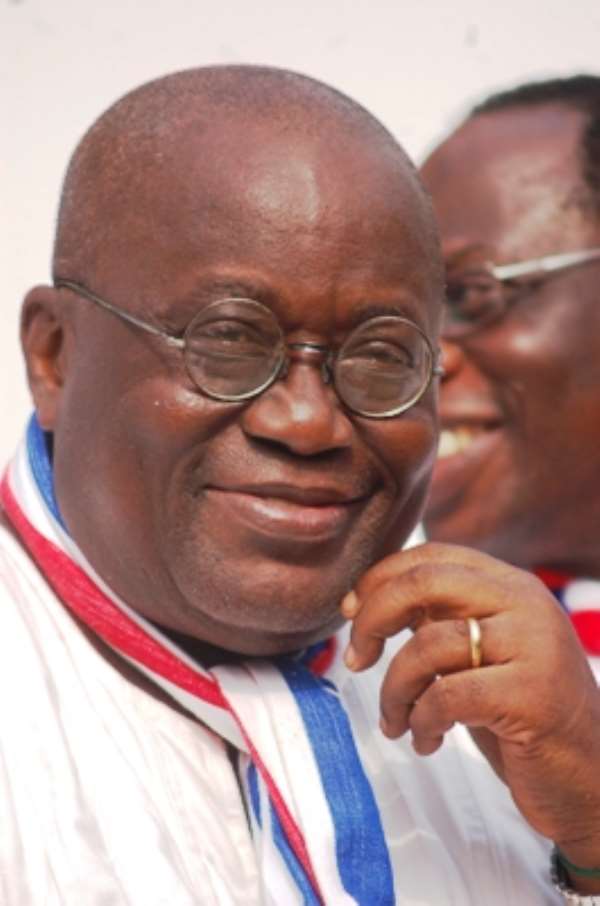 The presidential candidate of the NPP, Nana Addo Dankwa Akufo-Addo

The will power exhibited by the presidential candidate of the New Patriotic Party (NPP), Nana Addo Dankwa Akufo-Addo, by rejecting state land offered him during his tenure as a Minister of Foreign Affairs, has been greatly acknowledged and commended.
According to a deputy Minister of Information, Mr. Samuel Okudzeto Ablakwa, Akufo-Addo's decision to reject the offer on ethical grounds needed to be commended and emulated.
He said even though it was unfortunate that Akufo-Addo was unable to prevail upon his colleagues to do so in the interest of the nation, he had done his best, and must be praised, irrespective of his political affiliation.
To Mr. Ablakwa, the era when an opposition party sees nothing good about the ruling party and vice-versa, should be relegated to the background, and called for praise where it was due.
"I think that he has done very well in that regard, by not involving himself in the property grabbing as others do. He must be commended for that, and we must all learn from it. It was unfair for people to loot the state, because they serve in one capacity or the other."
Speaking in an interview with this paper, Mr. Okudzeto Ablakwa however, advocated for the enactment of the public officers conduct act, which would not only regulate, but also spell out the dos and don'ts of all public office holders.
According to him, if the Act is enacted, it would prevent public office holders from looting state properties and many others, adding that it would provide a guideline to prevent abuse of office.
He said the tendency, where ministers or public office holders tend to benefit from projects that they supervise, thereby providing an opportunity for the public to subject them to lot of criticisms, was worrying.
The deputy Minister further told this paper that in order to restore public confidence in politicians or public office holders, "we need to carefully have a holistic look at the issues, including gifts to public office holders. We need to spell them out on what they should take or not take," he said.
Mr. Ablakwa was deeply involved in agitations against the previous administration, on the way and manner most of them were allocated lands, bungalows, and cars.
According to him, if the Public Officers Conduct Act comes into force, it must take into account the mode of award of contracts, so that those in charge of awarding contracts would not end up awarding them to their cronies and family relations.
The Deputy Minister could not fathom why Mr. Osei Adjei, who succeeded Akufo-Addo, could not emulate his former boss, but joined others to grab state properties.