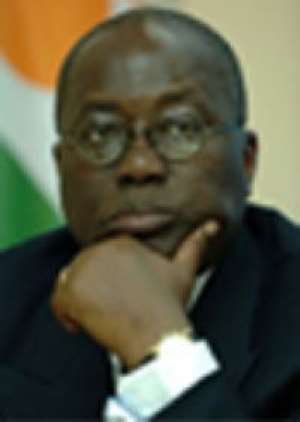 A SPEECH DELIVERED BY NANA AKUFO-ADDO AT THE MENSAH SARBAH HALL, UNIVERSITY OF GHANA, LEGON
WEDNESDAY, APRIL 21, 2010
Mr. Chairman, lecturers and students of the University of Ghana, ladies and gentlemen, good evening. Let me begin by expressing my sincere gratitude to the lecturers and students of the Mensah Sarbah Hall for inviting me to address you on a subject that is central to Ghana's development and about your purpose for being in this great institution of learning: how to instill hope for the youth of Ghana.
Mr. Chairman, just this morning I had a media interaction at home in Nima to herald the beginning of my campaign for the presidential candidacy of the New Patriotic Party (NPP). Thus, this gathering becomes my first public engagement after the public announcement of my candidacy. As an alumnus of this great university, this therefore becomes for me a pilgrimage of renewal that will serve to re-establish my connection with the most critical mass of people in this country - the youth. There could never have been a better place to start from.
My faith in the youth of this country goes beyond the political. My faith in the youth of this country is absolute. It has always been my passion to work with young people, to help them develop themselves to the best of their individual talents. I am happy to state that some of the most brilliant younger lawyers around today came through my law firm, Akufo-Addo, Prempeh & Co. Some of you may recognise names such as Joyce Darko, Daniel Afari Yeboah, Joe Ghartey, Frank Davies, Atta Akyea, Akoto Ampaw, Efua Ghartey, Ursula Owusu, Yoni Kulendi, Kwame Akuffo and Godfred Yeboah Dame.
Today, the people who run my campaign are among the young emerging figures of our party, including Mustapha Hamid, Isaac Asiamah, Dominic Nitiwul, Kobby Okyere-Darko Mensah, Olive Quartey, Nii Quartey Titus Glover and Samuel Abu Jinapor, a law student at this University, with a rich appetite for serious politics. Mr. Chairman, permit me to express my gratitude to these vibrant, energetic and intelligent young men and women from diverse ethnic, religious and professional backgrounds. The kind of effect their collaboration is having on my campaign gives me considerable confidence that there is indeed hope for the youth and therefore this country.
I feel very proud to belong to a political tradition which our opponents describe as "book-long". Let me state that the volume of work that has to be done to move our country from third world to first world status cannot be done with people who are self-confessed "book-shorts". Knowledge, knowledge and more knowledge is the only way by which we can rid our society of ignorance, poverty and disease. We have all borne painful witness to the long list of clumsy decisions taken by the Mills-Mahama administration. They may be cut out for running things down but they are certainly not cut out for the job of running a nation.
I see a sea of knowledge before me today, most of you working toward a university degree to acquire the skills and expertise to earn a decent living and move this nation forward or lending your own accumulated learning to teach others who are eager for knowledge. Future leaders, you may recall that my campaign message in 2008 was mainly about education. Education was my priority yesterday and education is my priority today. It is the only sure-fire way of securing a brighter future for Ghana.
Today's youth running barefoot to school could be a future leader of business, industry, or government. Education is the equaliser of opportunity. I am of the strong conviction that no Ghanaian child should be denied education because of the circumstances of their birth. I am standing here today before you because of education. My father was a young boy from Akropong, who lost both his father and his mother at a tender age, but through perseverance and borrowed money from a farming aunt, burnt the midnight oil to become a barrister and the historic figure that he was. Indeed, at the time I was born, my dad was still paying off that generous/benevolent aunt!
As I travel across the country, many of you have told me how hard your parents worked to give you the opportunities you have had, to secure you the benefits of a tertiary education. Many of you have asked me why you have worked so hard for your education, only to be told there seem to be no jobs for you here. You wonder if maybe you should leave and look for jobs abroad.
35 years ago, after continuing my education abroad and getting a lucrative job in Paris immediately after, I faced a decision which has been common to our youth for the most part of post-Independent Ghana: return to Ghana, or stay abroad and perhaps find success but in a place that would always feel alien to me. And when I made the decision to return and fight for Ghana, to contribute my skills to making my nation stronger and better for all of us, for a moment some in my family thought that I had made an irresponsible choice that would jeopardize my own future. But I made the decision to return and have never looked back – well, I must admit, since then I have had to go on exile on two occasions, with none lasting more than two years.
But since that day back in 1975, I have been fortunate. I have been able to be part of many things so much bigger than any one man, ordinarily. I got to be part of those who stood against military rule in Ghana, and fought for human rights and individual freedoms. I got the opportunity to stand up for what I knew was a great country full of talented but disenfranchised people, and helped move it towards becoming a great country that acknowledges that its greatness, its strength, is the very people that it used to take for granted. I have had the good fortune to be a part and watch Ghana's democracy, its civil society, flourish, until today we have one of the freest countries in Africa, in spite of this new culture of impunity. 
So when you ask me, where are you to go to find jobs where you can use your education, and your potential, I will tell you, here. Here in Ghana is where you will find those great jobs. Ghana is where you will build your career. Ghana is where you will make your mark on this growing global society.
No country has been able to shed the evils of poverty, ignorance and disease with a largely illiterate population. Indeed, according to the Anamuah-Mensah report, the JSS system left us with up to 240,000 school-leavers being thrown out onto the streets every year without any form of basic employable skills. That was the legacy of the 19 years Rawlings era, which produced the most disastrous educational reform of our history. Sadly, the NDC is back in power and we are moving backwards – slow but sure.
One of the major problems of our nation is how to create good, well-paying jobs in sufficient quantities for all those willing and able to work. The NPP believes that the creation of jobs is largely the responsibility of the private sector and that governments only create the enabling environment for private actors to create wealth and jobs. But, the evidence today is a struggling Ghanaian private sector.
According to the latest survey by the Bank of Ghana, the confidence of the business sector in the economy is stuck in low gear. Consumption is low because there is no disposable income. When there is low demand for goods and services, the economist at the Makola Market will tell you, you can easier control inflation. Loans from the banks to the private sector have declined, with interest rates averaging 32%. As another sign of a struggling economy, the banks' net portfolio of bad loans has increased from less than 8% in December 2008 to 20% today. 
Figures released by the Bank of Ghana last Friday, suggested that Ghanaians are now even buying fewer credits to top up their mobile phones – something I believe some of you are familiar with. This is the first time we have heard a decline in the telecommunications sector since the inception of the Fourth Republic. Poverty is back with a vengeance. The World Bank estimates that by the end of this year another half a million more Ghanaians will fall below the poverty line. This is a reversal of a trend which saw poverty reduced from 39.5% of the Ghanaian population in 1999 to under 26% by 2008. 
The Governor of the Bank of Ghana, Kwesi Amissah-Arthur, disclosed last Friday, "There appears to be some revenue shortfalls related to import duties, import VAT, petroleum tax and communications service tax."
He continued, "On the real sector of the economy, developments have not been encouraging. The [Monetary Policy] Committee [of the Bank of Ghana] was concerned about the slow pace of economic activity, as evidenced by the declining trend."
While businesses are suffering, Information Ministers are declaring with pride that the NDC government has created 1.6 million new jobs in its first year. Well, they can tell that to their party activists who are on the rampage screaming for jobs.
Ladies and gentlemen, we need a rescue plan if we are to guarantee our future. I will offer you a suggestion of one such rescue plan. Let us get the NDC out in 2012 before they do irreparable damage to this country's education and thereby ruin the future of our country and its youth. 
Indeed, the NPP government sought to deal with child labour and illiteracy through the introduction of the School Feeding Program and the Capitation Grant that combined to increase primary school enrolment significantly. In 2008, we gave a manifesto pledge to expand the free meal a day from 500,000 school children to every school child. The NDC government promised free school uniforms. There is a phrase: which says that   – an empty stomach does not willingly listen to words.
In a fundamental sense, education is the key to human development and to widening life's options for individuals and society as a whole. In that sense, education is the key to the development of our nation and a healthy democracy, instead of a mobocracy, where the seizure of toilets, vehicles and illegal takeovers of offices of state institutions by the supporters of a ruling party become the order of the day.
Too many of our children graduate from our Senior High Schools without access to our universities or the necessary skills for the job market. Also, too many of the too few who get into our universities graduate without jobs. I believe that our ability to overcome these challenges will determine the future of our country. That is why I will repeatedly pledge to make education the foundational issue of the next NPP government.
That is why in spite of the scepticism of our political opponents, when we were in government, we found the resources to implement the Free Compulsory Universal Basic Education (FCUBE) which they impugned with gusto. Today they are happy and quick to announce to the world that their greatest achievement in sixteen months of government is the increase in the capitation grant. Well, I am happy that when we set the pace, others follow.
When we said that we were going to make education free up to the secondary school level, they pooh-poohed the idea. But I say to you this evening, that the education of our sons and daughters and children is an imperative. It is an imperative that we cannot make excuses for. Whether they are excuses of lack of money or of little faith in the Ghanaian's capacity for big things.
Ladies and gentlemen, when I said that our country can get to work to becoming a first world in the future, our opponents accused me of harbouring fanciful ideas. Let me repeat here and now to them, that to believe in yourself and in your country is not a fanciful idea. This is an idea borne out of and grounded in reality. I visited Burkina Faso in 2008 and bought and ate fresh strawberry fruits and grapes on the streets of Ouagadougou. It is doable here in Ghana. I want to encourage you to dream big. Dream big for yourselves and for Ghana and I want to be the leader who inspired our big transformation.
I know that the youth of this country have the zeal, the commitment, the ingenuity and above all, the belief that this nation can get to winning ways again. When I see the work that young men like Bryan Acheampong of Suhum are doing to ensure that every household in Ghana has access to a laptop, then I know that our youth are indeed dreaming big. There are many Bryan Acheampongs here. We can do it.
I believe in building the future for the youth, and building the youth for the future.
Many of you have asked me what I mean by "Believe in Ghana". And it seems that you ask me because you know there is so much about Ghana that we can believe in, but so much more that we want to believe it can be. You want to know what I mean when I say, "Believe in Ghana". Well, it may be tempting to disbelieve in the Ghana that we are in now. Yet, we should also dream for the Ghana we want to be in tomorrow. A modern Ghana, a prosperous Ghana, a tolerant Ghana; a Ghana that provides for the welfare and opportunity for its entire people; a Ghana that develops all its assets for the full benefit of the nation.
I believe in a Ghana where students will occupy a place of respect. I believe in a society that believes that all Ghanaians can develop their potential through education, from basic primary education on up to post-graduate studies.
I recall that during the 2008 elections, the then Vice Presidential Candidate of the NDC, His Excellency Vice President John Dramani Mahama, told a gathering of NDC students at the University of Cape Coast that my dream of Ghana as a first world country within a generation is "a pipe-dream". He said "when our street lights are not working properly, how can Akufo-Addo dream of Ghana becoming a first world country?"
We are men who believe it can be done. Left to the men and women in the NDC, we would all still be in the Stone Age. Let his Excellency John Mahama believe that because our street lights are not working properly we should remain in our third world status. I believe that we can and must train the electrical engineers who would be on hand 24/7 to ensure that our street lights are working. Indeed we believe that we can reach the place soon where our electrical engineers can fix the street lights by remote control.
Today, streets lights may be broken. Ghanaians are broke.
We believe it can be fixed. Who must fix it? Who can fix it? Who will fix it?
God bless Ghana.
God bless us all.