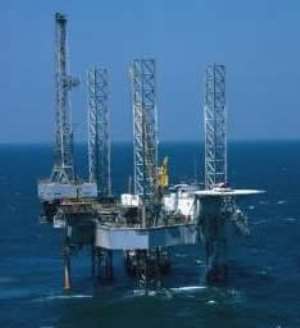 Ghana is expected to start collecting up to 120,000 thousand
Although significant revenues are expected from the Jubilee field oil production, various analyses suggest the expected revenue will have little impact without the engagement of local companies to render various services.
Related to the issue of local content are the elements of timeliness and quality assurance which have been described as essentials for the engagement of local firms. In this regard, Nana Owusu Afari, President, Association of Ghana industries, has challenged local companies to promptly deliver on contracts, paying attention to contract specifications.
"When you get an order, make sure to deliver on time...Timely and quality delivery are very important," Nana Afari said on Tuesday in Accra. He was launching the first Domestic Content and Matchmaking Exhibition/Conference in the Oil and Gas Industry, which is scheduled for May 17-20, 2010.
The Association of Ghana Industries (AGI) is organizing the exhibition/conference in collaboration with the Ghana National Petroleum Corporation (GNPC), Tullow Oil Ltd, Ministry of Energy, and the Ministry of Trade & Industry (MOTI). The event will bring together players in the industry including oil producing companies and their subcontractors, as well as, local companies who can offer various products and services to operators in the industry.
Numerous programmes have been organized for the oil and gas sector since the discovery of oil, especially during last year. But AGI has a different focus for the exhibition cum conference, according to Nana Afari. The main thrust of the event, is to promote businesses between local companies and the international oil and gas companies. It is expected that presentations at the conference will mainly be done by international oil companies operating in Ghana. In the AGI President's view, the conference/exhibition will ultimately contribute to making oil a blessing in Ghana.
Expected annual oil revenue from phase one of the Jubilee Field project is estimated to be between US$200 million and US$1.6 billion. The GNPC has forecast annual oil revenue to be between US$836 million and US$1.6 billion.
The revenues, resulting from royalties and taxes, have been described as significant but insufficient for meeting expected development targets. However, it is anticipated that effective development of downstream activities, with active involvement of Ghanaians, through local content and participation would contribute in meeting development targets.
Additional benefits in terms of revenue and job creation are expected to accrue through ancillary activities such as catering services, transportation and fabrication of metals, for which local firms are expected to be largely engaged.
A "Local Content and Local Participation in Petroleum Activities - Policy Framework", which is still being finalized, indicates that it is the desire of government that the control, as well as, the benefits in the oil and gas discovery and production will remain with Ghanaians.
According to the document, the vision of government is to achieve "full local participation in all aspects of the oil and gas value chain of at least 90% by 2020." An objective of the policy is to increase capabilities and international competitiveness of domestic business and industrial sectors.
Nana Afari commended government for the development of the policy, noting that it will maximize the use of local expertise, goods and services, job creation for people, businesses and financing in all aspects of the oil and gas industry value chain.
Already, the GNPC is reported to have registered 120 local companies in its quest to promote local content and participation.
On the other hand, Tullow Ghana has indicated it will always champion and promote local content in its business but will conduct its business in strict adherence to the standards of the oil industry.
On Tuesday, Gayheart Mensah, Communications Manager of Tullow Ghana Limited, said the oil firm is on track to achieve its nationalization policy of ensuring that its staff profile has a 90% Ghanaian component by the end of its third year of operations in Ghana. In consonance with this, "86% of Tullow Ghana staff are Ghanaians," Mensah disclosed.
Source: Public Agenda/Ghana