Is Asantehene Unknowingly Causing the Disintegration of Asanteman?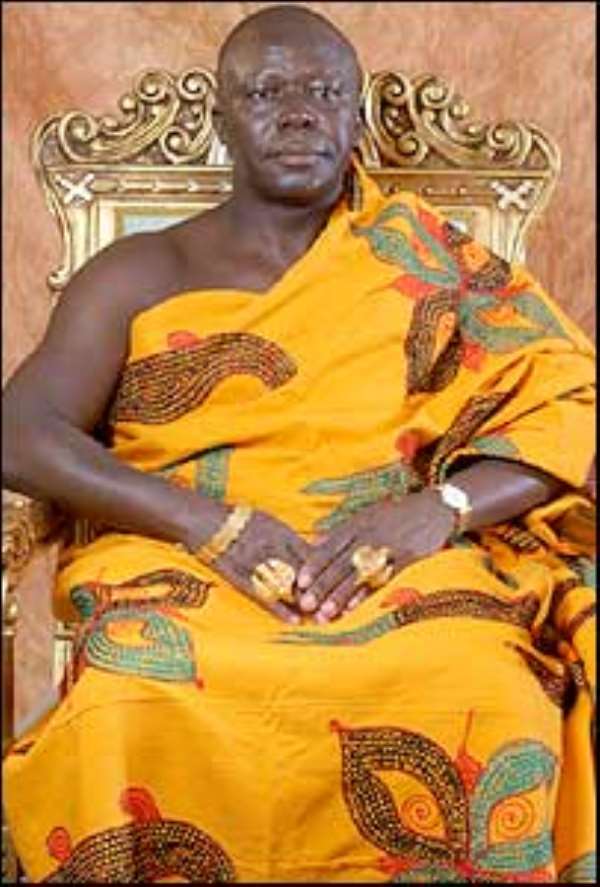 Is Asantehene Unknowingly Causing the Disintegration of Asanteman?
Where is that once alacrity with which chieftaincy disputes were resolved in the Asante Kingdom? Now, the Kingdom is beset with chieftaincy troubles left unresolved for several years. These disputes have always had adverse developmental repercussions on the areas involved. Adanse Fommena has been without a chief for well over a decade. Essummeja is without a chief since the demise of Nana Oduro Animapau III in 2003. Kumawu is without a chief since the passing of Barima Asumadu Sakyi II in 2007. Kumawu's case raises eyebrow. It is being high-jacked by a great, great granddaughter of one "AYO" (a beautiful fair-coloured girl with sad history about her origin).

Judging from the ineptitude and the corruptibility of the sitting Asantehene, one could well conclude that the once powerful Asante Kingdom is not only a shadow of itself but sitting on a ticking time bomb. Discipline, honesty, self-respect, fairness, friendliness and firmness; the very qualities of cardinal significance on which Asanteman once pivoted have now eluded the Kingdom. "Na who cause am Oga, as a Nigerian may say?" It is our Otumfuo Osei Tutu II, a seemingly myopic autocratic. His short-sightedness bordering on ruinous arrogance as the Overlord of Asanteman has cost the Kingdom the membership of Atebubu. The chief and the people of Atebubu have seceded from Asanteman. Now Mamponghene, the "Nifahene" of Asantehene within the Asanteman Council setup for personal reasons is entertaining his personal reservations about the alliance. Should he ever pull out of Asanteman, a feasible occurrence, then Asanteman is hurtling down the path of total collapse. Does Mamponghene attend Asanteman Council meetings or gatherings since his disgraceful demotion or relegation by Otumfuo Osei Tutu II? No. What a big fall from grace to grass, oh Mamponghene!

Asantehene must be wary of his actions. As "it does not belong to he who is leading to redirect their steps", I will continually point out, and also chastise him for his intentional shortcomings. I would expect him to have that sane philosophy of leaving the world (in this case, Asanteman) much better than he came to find it. If all were smooth sailing for him, he wouldn't come out to make that jittering request to the "Amanhene" and the inhabitants of Asanteman to help him unify and consolidate the Asanteman Union. This is not any hallucinating on his part. He has perceived real cracks in the Union which with time, if care is not taken, will be put it asunder. I resent his sanctimonious comments on immorality in Asanteman Council. He is himself neck-deep in immoral conducts. He is equally corrupt as those he accuses of corruption. CORRUPTION by my known definition is: "illegal, bad or dishonest behaviour, especially by people in positions of power". Is he not using his position to unwontedly suppress the people of Kumawuman? Is he not dilly dallying with regards to the Kumawu chieftaincy dispute before his Council all in the unholy name of his libidinal relationship with Kumawuhemaa? Is he not being unfair and dishonest to the real paramount royals of Kumawuman for the sake of his selfish interest, the sexual gratification and material wealth to gain from the sitting Kumawuhemaa of questionable royalty and character?


Am I not persuaded like anyone else to believe that the Asantehene is somehow benefitting from the proceeds of the rampant illegal sales of land ceaselessly embarked upon by that shameless Kumawuhemaa? A day does not pass by without one hearing that the queen with her accomplice, that "Tikenenkenen" Krontrehene has sold a piece of farmland or building plot and pocketed the accruing money. She has sold that vast land from ABENAAMU or ABENAAHO through to the stream "BRI ne BRIM" on the outskirts of Abotanso. A sizeable portion of the land belonged to Nana Kwasi Poku, the "Odikro" (sub-chief) of Abotanso who passed away about forty years ago. This land was once put to some commercial use by one Mr. Kwaku Duah, the son of Madam Adwoa Maah and Mr. Kwabena Osei of Abotanso-Abenaso when he returned to Ghana from his many years of residence in London in the late 1960's or early 1970's. One could even always see the wife of Nana Kwasi Poku, Nana Atorgbor, cultivating the land when one went to Abotanso. This greedy Kumawuhemaa sold the land simply because they used to say, "This land is Kumawuhemaa's land". The mere fact that traditionally the land had been assigned to Kumawuhemaa never accorded her that imperative prerogative, audacious capacity, callousness and swiftness with which she drove away, dispossessing those farmers who always tilled the land of their livelihood, and sold off the land. The land had been so-called for hundreds of years but it had never crossed the mind of any of her predecessors to sell it. The land in effect belonged to the Abotanso citizens. She has as usual pocketed the money that accrued from the sale of the land without ceding a part as compensation to the resident farmers or putting a pesewa into the Kumawu Traditional Council's kitty for the development of Kumawuman. Why should Otumfuo Osei Tutu II for the sake of his sexual desires allow this girlfriend-queen of his to inflict such untold hardships, venomous wickedness on poor innocent Kumawuman citizens?


This same queen who has been eluded of developmental vision but full of spiteful selfishness and insatiable quest for money has done as following. When a President Special Initiative (PSI) fund was sought by, and in the name of the Kumawu Traditional Council, to carry out Palm Oil Nursery project in a bid to create jobs for the jobless in the area, she diverted the money. She rather channelled the money into her private company, SPARROW. Instead of instituting the Project as "PSI & Kumawu Traditional Council", she rather initiated and documented the project in the name of "PSI & Sparrow". One should note that Sparrow is her personal company with affiliations elsewhere. It is very shocking to learn that the money released by the government to effect compensation payment to those whose lands were encroached on or seized for the project were not fully released by the queen. She kept about 70% of it for her personal use. The project is at "Onwam mu" on the Kumawu-Kwamang road. The royalties and social responsibilities normally paid to Kumawuman from those timber merchants dealing in the teak from the area have not been seen by the Council since the demise of Barima Asumadu Sakyi II, three years ago. Where are these payments, Nana Kumawuhemaa and Nana Krontrehene the "sikadicious" leaders?

Kumawuhemaa still saunters bragging about her sexual relationship with Asantehene as though she has never seen other men before. She is annoyingly exploiting this relationship to the detriment of the urgent needs of the masses of Kumawuman. She says with certainty that her boyfriend will tip the balance in her favour in the pending Kumawuman chieftaincy disputation. Was she very serious with her friendship to Otumfuo Osei Tutu II, then what are Amoah and Prince Wabo of the Police Striking Force doing with her indoors? What a shame on her!

I would have requested my Learned and most respected Lady Julia Osei Tutu, the wife of Otumfuo Osei Tutu II, to whisper into the waxed ears of Kumawuhemaa, "Otumfuo nya nkwa a efiri wo, onya owuo nso a efiri wo ara" but I would not. My reason being, "Speak not into the ears of a fool for he will despise the wisdom of your words". Kumawuhemaa may take offence and insult my noble Julia, the only thing she does best. Moreover, Lady Julia should stay out of the Otumfuo - Kumawuhemaah scenario as "A wise head keeps a still tongue"

I laugh my head off whenever Kumawuhemaa boldly confides in people that she will enthrone a person of her choice from the supposed Ankaase royal family regardless of any pending "Asantehene Ntamkese" invoked on her. Her audacious assertions can only happen in her Fulani motherland where the Fulani herdsmen after getting frustrated by their herds, scream, fight and kill at any least provocation. In Asante land, there are laws and institutions that are to be respected. She started by stating that some people are slaves as a result of which they are not eligible to rule Kumawuman. I, being a historian of some sort and an appointed vessel of God to disseminate His plans, am challenging her according as directed by God. Why should I fear to be bold and truthful with God's proclamations? Some people always have the wrong assumptions that John is in the employ of someone to write gibberish. No wonder that it always hurts to tell the truth but in the end it brings comfort.

Who has ever heard of any of the true biblical prophets of God told lies or quivered in the face of telling the truth? It never existed and will never do. Then see my mission as such without implicating anyone. I am saying this owing to people's comments on my articles which seem to suggest my gospel-truth proclamations as being instigated by whomever. Kumawuhemaa and the Kontrehene are doomsday missionaries with evil intent.

Finally, I can hardly understand how wise or otherwise the Kumawuhemaa with her personal advisors is. She does not know and understand secret. She, out of the vanity of her selfish life lets out any secret assurances the Asantehene imparts to her. She has again been disclosing to her close friends how Asantehene has assured her not to have sleepless nights over the "Asantehene's Great Oath" so invoked on her. She further reveals to her confidants how Otumfuo Osei Tutu II has categorically assured her he is going to waive any formalities pertaining to the invocation of the oath. Excellent! This goes to tell she has no case to answer with regards to the counter-oath challenging her right to proclaiming other royals, thus, the "Odumases and the Ananangyas" as slaves who are illegible to ascend to the Kumawuman paramount throne. She, by her pronouncements is purporting that Otumfuo is going to brush under the carpet the most significant determinant of the entire Kumawu chieftaincy disputation. Is the scale tipping in her favour simply because of that much hyped relationship between them? She goes about saying, "In Ghana, it is not what you know but how much you are loaded cum whom you know". What a prejudicial precedent about to be set? It will not only ruin the cohesion of Asanteman but the fear once entailed in the "Asantehene's Great Oath". Be that as it may, let me seize the opportunity to recount the following true story to buttress my contention as to how the "Asantehene Ntam Kese" (Asantehene's Great Oath) will forever become a joke, losing its inviolable sanctity. It will lose its resolute cohesive vitality as an effective weapon in the arbitration of chieftaincy disputes.

In the early 1970s, one Kwabena Hene, alias Ojukwu, a student of Kumawu Tweneboa Kodua Secondary School and the son of one Master Kwame Kyere from Kumawu, had this funny but true story to tell his fellow students. He had accompanied Mr. Bang, the Headmaster of the School who doubled as the "Odikro" (chief of a village) of Kumasi-Ahwyiaa, as Mr. Bang's stool bearer. Mr. Bang had gone there one sunny Saturday to sit in State to arbitrate a disputation involving two of his prominent subjects. In a nutshell, the case went against one of them after a tortuous deliberation. As there is always a guilty party in any such arbitrations, the man found guilty was demanded to slaughter a sheep to appease the one emerging innocent and the panellists who sat on the case. The guilty fellow screamed at them saying, "Metwa ofui" and walked off, leaving them agape. Ojukwu came back to school that evening to tell his colleagues what had happened at Kumasi-Ahwyiaa. Sorry I can't spell the name of the village correctly as it should be. When it did happen that months or a year later the students of the school embarked on demonstrations in a bid to get rid of Mr. Bang as the Headmaster, headed by one "Akoroo", they started teasing him by calling out "Metwa Ofui" whenever his car was passing by on the campus. Is Otumfuo Osei Tutu II not about to tow a similar path if truly the bragging of Kumawuhemaa in this regard is anything to go by?

Otumfuo should be very careful about the way he is allowing himself to be manipulated by the Kumawuhemaa on the basis of their friendship or else, it will dent his credibility. All eyes are watching. And all tongues are wagging.

My condolences to Otumfuo Osei Tutu II, the entire bereaved families, their friends and sympathisers, on the occasion of the death of his niece and one of his Asanteman chiefs. May we all rally around him in this difficult moment of his?

John Fosu