Media Urged To Be Circumspect On Security Matters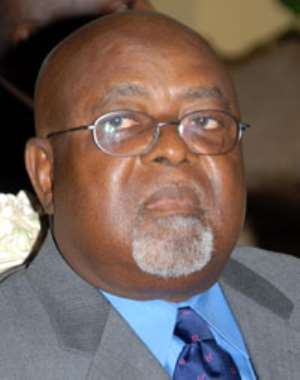 Lt. Gen. J. H.Smith (rtd), Minister for Defence.
The Military High Command has alled on media practitioners to exercise a high degree of circumspection in reporting security matters.
'Inasmuch as we appreciate your interest and concern over the military, we would like to emphasize that you should spend some time and energy in determining whether your publication are in the interest of national security, of national interest or public interest,' the Minister for Defence, Lt. Gen. J.H.Smith (rtd), stated.
Speaking at an encounter with media practitioners at the General Headquarters of the Ghana Armed Forces (GAF) at the Burma Camp in Accra yesterday, Lt. Gen. Smith said the GAF were sensitive institutions of state and journalist must, therefore, cross-check their facts on matters affecting or emanating from them.
He said over the last few months some publications on the military had not gone down well with it because of the implications the international community might derive from those stories.
He said the media were aware that the GAF were deeply involved in international peace support operations all over the world and that their image in such operational theatres which had been hailed by all needed to be protected if Ghana was to continue to participate in such operations.
Lt. Gen. Smith (rtd), therefore, appealed to the media to do some due diligence on any information on the GAF before putting it in the public domain.
He urged journalist not to introduce politics into the daily routine activities of the military.
Touching on recruitment to the GAF, the minister said in the next exercise the military would give preference to qualified would-be soldiers whose recruitment was nullifies recently.
Consequently, he said details of those candidates had been noted for consideration in the next recruitment exercise which would be undertaken next year.
Lt. Gen. Smith said the High Command was studying the outcome of the Board of Inquiry set up to investigate the flaws in the recruitment exercise, and added that officers found to be culpable would be dealt with according to military rules and regulations.
He said the Ministry of Defence (MOD) was also renovating the Army Recruit Training schools to meet modern standards.
The Chief of the Defence Staff, Major Gen. Pete Blay, said the GAF is a well-structured organization, and appealed to aggrieved soldiers to channel their grievances through the channels to avoid any embarrassment to the service.
He gave the assurance that training programmes would be organized for journalists on the operations of the GAF.
The Executive Secretary of the National Media Commission, Mr George Sarpong, called for guidelines on security reportage to be developed to direct journalist in the discharge of their professional duties.
The Vice-President of the Ghana Journalist Association, Mr Afffail Monney, appealed to journalists to always consider the implications of their stories on the country's security before publishing them.