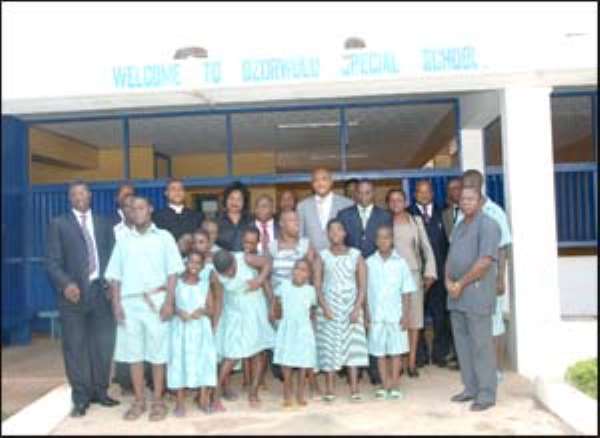 Ghana Life Supports Dzorwulu Special
As part of activities to reawaken the insurance giant, Ghana Life Insurance, the company donated exercise books and cash to the Dzorwulu Special School in Accra last week.
The donation was done by the Chairman of Ghana Life Insurance Company Limited, Ing. Cyril U.O. Ajagu and some directors and officials of the company.
Making the presentation, the Chairman said, "Ghana Life, arguably, the specialist in the Life Insurance industry, has bounced back to take its rightful place as the oldest existing Life Insurance company in Ghana".
"This support to Dzorwulu Special School is part of our corporate social responsibility and it fits into the company's innovative products to support children's education. Ghana Life's own products cover Educational, Pension, Endowment, Credit Protection, Mortgage, Group Life and Funeral plans," Ing. Ajagu added.
Receiving the books and cash, the Assistant Headmaster of the school thanked the Ghana Life delegation for the kind gesture and urged other corporate bodies to emulate the good example of Ghana Life Insurance Company.
Present at the short but impressive ceremony were Mr. Ivan Avereyireh, Chief Executive Officer of Ghana Life; Mr. Eric Adane, Marketing Consultant to Ghana Life Insurance and other officials of the company.