Clinton in Iraq amid new violence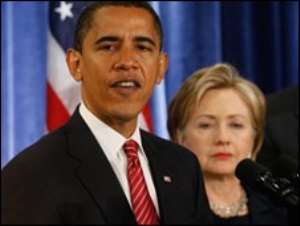 Hillary Clinton has landed in the Iraqi capital Baghdad for her first visit to the country as US secretary of state.
Her visit comes in the wake of two days of suicide bomb attacks on Baghdad and other Iraqi towns which killed at least 155 people and wounded many others.
Mrs Clinton said she wanted to help identify how to counter the violence.
President Barack Obama, who visited Iraq a couple of weeks ago, has committed the US to withdrawing troops from Iraqi cities by the end of June.
All combat brigades are to leave by next summer.
Violence fell sharply in Iraq in the last year.
But because of the recent attacks, there will be a lot of head-scratching about whether the timetables should be stuck to or whether they should be flexible, the BBC's Jim Muir in Baghdad says.
The attacks do not yet seem to be a sustained trend, but they seem to be starting to take on a rhythm which is truly alarming for the Iraqi government and for the Americans, our correspondent says.
'Clear signal'
Mrs Clinton landed in Baghdad at about 0830 local time (0530 GMT).
America's top diplomat will spend the day in Baghdad, holding talks with Iraqi officials, including her Iraqi counterpart Hoshyar Zebari and Prime Minister Nouri Maliki.
Mrs Clinton will also discuss the recent attacks with US commander in Iraq, Gen Raymond Odierno.
"I want his evaluation of what these kinds of rejectionist efforts mean and what can be done to prevent them by both the Iraqi government and the US forces," Mrs Clinton said before leaving for Baghdad.
Mrs Clinton said the recent upsurge in violence was a tragic signal that Iraq was in fact on the right path.
She said the Iraqi government had made impressive progress but there were people who did not want it to succeed.
Mrs Clinton said her trip was meant to send a clear signal to the Iraqi people that the US was committed to helping them navigate the difficult transition period.
In Baghdad, Mrs Clinton will also be meeting a group of Iraqi widows and holding a "town-hall" meeting with Iraqis from different civil society and interest groups.
Deadly attacks
On Friday, two female suicide bombers attacked Baghdad's main Shia shrine, killing at least 60 people and injuring 125 others, Iraqi officials said.
On Thursday, 84 people were killed in two separate suicide attacks in Baghdad and Baquba.
Many victims were Iranian pilgrims, and the violence was condemned in Tehran.
On Saturday, Iran's Supreme Leader Ayatollah Ali Khamenei accused US troops of involvement in the bombings that had killed Iranian nationals, Reuters news agency reported.