22 Ghanaians trapped in Trinidad cells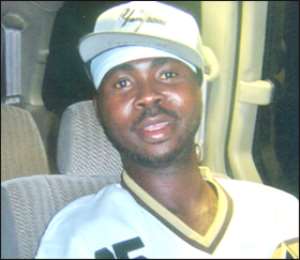 Naziru Karim one of the stranded Ghanaians in Trinidad INFORMATION Reaching DAILY GUIDE indicates that 55 African nationals including 22 Ghanaians are languishing in a Maximum Security Prison at Arouca in Trinidad and Tobago.
Some of the Ghanaian inmates who spoke to DAILY GUIDE on phone from the prison alleged that though they have not been charged with any offence, they are being kept behind bars illegally for years, while prison officials prevent them from seeking legal counsel.
The inmates alleged further that some of them have long completed their jail-terms but are still being detained and made to engage in hard labour together with fresh prisoners.
They explained that though prisoners are not allowed to have phones on them, one of the officials, rather sympathetic to their plight, permits them to use his phone under an agreement that his identity would not be exposed.
The prisoners hinted that there are other Ghanaian and African inmates serving various terms in other prisons outside Arouca.
Asked how they landed in a foreign jail, the prisoners confessed that some of them journeyed to the Caribbean Island as a transit point to Europe and the United States while others went to Trinidad specifically in search of greener pastures.
They explained that on reaching Trinidad, some of them got employment, but they were soon arrested, thrown behind bars almost immediately and asked to explain their immigration status; but have since been left to languish in jail.
The Island of Trinidad and Tobago has a population below 1.5 million with a large reserve of oil and gas and is rated as one of the wealthiest countries in the Caribbean.
The country is inhabited mostly by people of African and Indian descent and it enjoys a per capita income well above the average for Latin America.
Many West Africans migrate to the country and the Caribbean in general but mostly through illegal means, either to work there or use the country as a transit route to the United States.
In April last year, the Ghana government rescued about 150 Ghanaians and Nigerians who got stranded in Barbados, another Caribbean country, for close to two months; though they were supposed to be tourists.
They were sent there by the Ghana International Airlines (GIA) in collaboration with Season's Travel and Tours, the Chaterer, but could not return to Ghana as planned due to a difference in position between the Charterer and the authorities in Barbados.
At the time, the Ministry of Transport, Works and International Transport told the media it received an e-mailed application dated January 17, 2008 from GIA in association with Seasons Tours and Travel to permit a charter tour operation into Barbados on January 20, 2008 and depart the next day.
However, having received the application, it queried the actual period of the tour since no return date had been given.
The returnees were flown into the country aboard a Miami International Airliner, which was Boeing 737-800 Aircraft. To enable them reach their families, they were each given travel and transport allowances ranging from GH¢10 to GH¢25 depending on the distance of the returnee's home district from Accra.
By Halifax Ansah-Addo