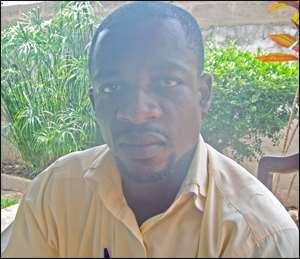 Reverend Ofori Asare Samuel A MAN OF God has predicted that more people will die through road accidents if the whole nation does not pray for forgiveness.
Reverend Ofori Asare Samuel, Founder and Head Pastor of Taifa-based 'God Is Able Ministry', who walked into the offices of DAILY GUIDE yesterday, said God is angry with Ghana as a result of the blood of some innocent persons that was shed before the 2008 general elections.
"The constant call on drivers, passengers and pedestrians to be careful on the road will not help. Great sins have been committed and we must ask for forgiveness."
Though the servant of God, who is popularly known as Akoa Samuel, could not point out which individuals had shed the blood of those innocent people, he noted that God had spoken to him, asking that the nation be cleansed through the observance of a two-day prayer and fasting.
According to Akoa Samuel, God had directed that after the fasting, Christians and Moslems should hold respective national services.
At the two prayer services, "offering should be given by those who attend and that money should be given to the disabled community and orphans in the country.
"God says when this is done, He will listen to our prayers and the carnage on the country's roads will cease."
However, he warned that "if we fail to obey, more atrocities will be recorded in the nation in the next few months."
The leader of the God is Able Ministry said failure to observe God's directive by the two main religious groups in the country would lead to the loss of more lives including those of prominent leaders in the country before the end of next month.
After delivering the message, Akoa Samuel suggested that stringent measures be put in place to wipe out internet fraudsters, but added, "This is not from God. It is my own opinion."
He said the internet fraudsters, in their quest to swindle their victims, undertake rituals such as walking naked in the middle of the night, carrying coffins, and collecting blood-stained sanitary pads of women, which they use for occult activities.
This is not the first time Akoa Samuel is cautioning Ghanaians and especially the nation's leaders about God's forewarning. He had in 2008, before the elections, predicted death for anybody who will rig the polls, as well as the imminent death of some prominent musicians in the country last year. He said though he did not mention names, his predictions came to pass.
By Emelia Ennin Abbey