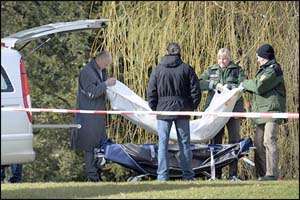 The police removed the body of a victim A gunman dressed in military gear killed 16 people Wednesday in a shooting spree in Germany before he was shot dead by police, police spokesman Rainerim Kretschmer, 17, began his rampage at a school where he used to be a student in Winnenden, a small town about 20 kilometers (12 miles) northeast of Stuttgart, said KIoeller, of the police in the nearby town of Waiblingen.
"The suspect broke into the school. He went into the classroom and shot wildly around himself and left the building and fled on foot," Hans Ulrich Stuiber, another police spokesman, said.
Three teachers and 10 students were killed at the Albertville-Realschule Winnenden school, Kloeller said. The shooting, which began around 9:45 a.m. (4:45 a.m. EDT), lasted about two minutes, police said. Kretschmer fired shots into three classrooms, Kloeller said.
On his way out of the school, the gunman killed a person who was working in a hospital nearby, then hijacked a car, taking the driver hostage.
He drove to the nearby town of Wendlingen, where he let the driver go, Kloeller said. The driver alerted the police.Kloeller told CNN.
Kretschmer was spotted by police in Wendlingen at around 12:20 p.m. (7:20 a.m. EDT) and shot two of them, injuring them. He then killed two more people before being killed himself in a shootout with police, authorities said
Kretschmer was on the loose for three and a half hours after the incident began, police said.
German Chancellor Angela Merkel said it was "inconceivable that within seconds school students and teachers have been put to death by this terrible crime."
"It is a day of mourning for the whole of Germany," she said in a televised statement.
Police did not know the motive for the shooting spree, CNN's Frederik Pleitgen reported from Winnenden.