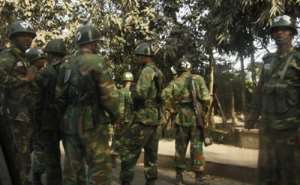 A series of small graves have been found in Bangladesh at the scene of a mutiny by border guards this week which left scores of people dead and missing.
The army made the discovery in the border guards' headquarters in the capital, Dhaka, as they continued the search for dozens of missing officers.
It follows the discovery on Friday of a mass grave, thought to hold the bodies of 58 officers killed by the mutineers.
The mutiny ended when the government threatened to quell it by force.
With about 70 officers still unaccounted for, the death toll is uncertain.
The army has postponed the funerals of those who died until all the bodies have been found. The bodies of nine military officers and one woman, believed to the wife of the border force's commanding officer, were found on Saturday in a series of shallow graves inside the 5-sq-km headquarters of the Bangladesh Rifles [BDR].
Many of the bodies had been badly burnt and were difficult to identify.
Teams of firefighters are looking for patches of freshly dug earth and the smell of dead bodies in the rose gardens, vegetable gardens and even the small zoo of the barracks in central Dhaka.
Navy divers with ropes tied around their waists were climbing down into the sewers where several bodies were earlier discovered.
One officer told the BBC that human remains had been found in a fire, raising concerns that many of the corpses might have been burnt.
He also said that most of the guardsmen, said to number several thousand, had been able to escape before their surrender on Thursday night, says the BBC's Mark Dummett at the compound.
Piles of uniforms, boots and helmets were dumped by the boundary walls. They either belonged to mutineers or to men who did not want anything to do with the mutiny, our correspondent added.
'Grisly acts'
At least 200 suspected mutineers have been arrested. They were held while trying to escape dressed in civilian clothes from the barracks.
Lt Gen MA Mubin, the army's second-in-command, said the killers would be punished.
"The BDR troops who took part in these barbaric and grisly acts cannot be pardoned and will not be pardoned," he said in a televised address, AFP reported.
"They will be given exemplary and quick punishment by a special tribunal. The martyrs will be buried with state honours."
The mutiny was reportedly triggered by a spontaneous row over pay and conditions, although some officials say the revolt may have been planned.
Late on Friday, the head of Bangladesh's armed forces pledged support for the government, despite reports of discontent among the military about the way authorities had handled the mutiny.
Three days of official mourning is being observed until midnight on Sunday.