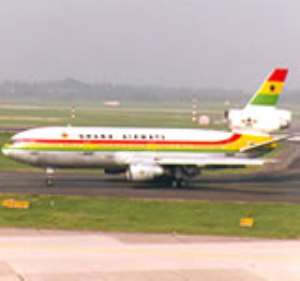 It is unfortunate that Ghana International Airlines is in a financial struggle and needing some huge cash injection.
Nevertheless, I don't believe GIAL, looking at its structure and composition, is viable enough for such a huge amount of money to be pumped into it now. According to stories in the media, so much has been wasted already, financially.
My first question is, how much has been raked as profit from all the money so far invested into this airline? My second question is, does GIAL have a hub in Europe for onward connecting flights to various destinations around the world? My third question is, how many aircraft did GIAL boast of since its inception in 2005? If the answers to my questions are in the negative, then we are running a non-profit making venture and rather investing the Ghanaian tax payers' money into a loss-making enterprise.
From a professional point of view, I believe the initiation of this vision was ill-orchestrated due to poor feasibility studies and consultancy approach. Is there a solution to our National Airline crisis? As a professional in the airline industry for the past 15 years I may answer yes to this question. Yet a solution could only be possible if and only if government takes a pragmatic, non-partisan and less-governmental-share (percentage) approach.
From a careful and critical analysis on the incredible and enviable operations and routes boasted by the then Ghana Airways, I believe, we could restore our national airline to a more descent and profit-making one. We just need efficient aircraft (new, old, modern, big and small) to run the same routes or more as did Ghana Airways.
We also need just a few staff and a few ground logistics for the same operation performed by the then Ghana Airways. "A good needlework man is known by the efficient use of his tools and not by a large number of tools." It is awesome to know that Ghana Airways was by then controlling international routes such as America (Baltimore & New York), Southern Africa (Johannesburg, Harare, Lusaka & Windhoek, etc), Europe (Rome, Dusseldorf, London Heathrow, Las Palmas etc), West Coast Of Africa (Monrovia, Freetown, Dakar, Abuja, Lagos, Lome, Cotonou, Bamako, Conakry, Abidjan, etc).
These routes were in no way patronized in those days by all these foreign airlines that have now flooded Ghana and enjoying the hard earned fruits of Ghana Airways' labour at the expense of Ghana Airways. As a professional in this field, I believe that total eradication of waste combined with the above mentioned solutions would bring Ghana Airways or a national airline back on its feet to easily rub shoulders with the international giants such as KLM, British Airways, South African Airlines, Lufthansa, and Alitalia among others.
From several training and working for years as an airline administrative officer for Aviance (then AFGO) and British Airways Cargo in Ghana and also after some few years of working in the American transportation industry, I have been adequately endowed with the experience and expertise to pin-point problems in the airline industry.
From various research, studies and analysis, a national airline for Ghana needs only one pick-up truck and just a handful of personnel (15 staff including cargo security officers) for its cargo department. The operations/dispatch/ticketing department needs only one pick-pick truck, two mini buses and 50 personnel (including 18 security officers). Most of the hundreds of staff should rather serve as commission-based ticketing and cargo agents to the airline.
The engineering section should also be well streamlined to eliminate waste. Staff tickets issues should also be transparent and free from abuse. These issues if well addressed and managed, will totally eliminate waste and bring efficiency.
The then Ghana Airways owned several pick-up trucks, mini vans, buses, several ground handling equipment, hundreds of staff, more-than-necessary offices and government had too much say in its affairs. A successful national airline needs not more than 40% of government control or power. A quarterly station auditing system should be a must to check financial, logistics, safety & security and other concerns.
With Ghana's well trained pilots, security officers and other crew members, a large number of Ghanaians and Africans home and abroad are just looking forward to a decent and well-structured Ghana national airline to once again take over those enviable routes for a comfortable and reliable travel and shipping.
If Emirates Airlines and South African Airways among others are operating comfortably in Ghana then our own Ghana Airlines can make it better after a purposeful restructuring.
By E.T. Nubuor [Email: [email protected]]