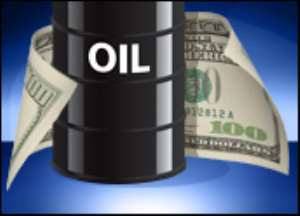 Ghana is gushing with optimism about its newfound oil and expected revenue, more than a year before pumping begins offshore.
There's a lot to feel good about. Ghana is a bona fide democracy — uncommon in resource-rich but conflict-plagued Africa — evidenced by another peaceful presidential election and transfer of power when John Atta Mills was sworn into office on Jan. 7. To add to the good fortune, two days later Ghana announced the discovery or even more oil off its coast.
Ghanaians hope the $1 billion-plus — potentially much more — in expected new annual revenue will propel the West African nation to middle-class status.
But there are risks. Oil has bred corruption and violent conflicts in nearby countries like Nigeria, Angola and Sudan.
"What happens to many countries that have been blessed with oil is it ends up creating more problems than actually helping develop the economy," said Steve Manteaw, director of the Integrated Social Development Center, a human rights organization in Accra.
Oil entered Ghana's national consciousness in 2007, as the nation celebrated its 50th year of independence from Britain. A consortium led by Tullow Oil, of Britain, estimated a find of at least 1 billion barrels, potentially 1.8 billion barrels, off Ghana's southwest coast in a field renamed "Jubilee" to honor the national anniversary.
"That is an absolute giant by any standards," said Tim O'Hanlon, Tullow vice president for African business. "Ghana has suddenly joined the club."
A second discovery followed and in January the third find was confirmed, in the same region. The plan is to begin pumping 120,000 barrels per day in 2010, doubling production in two years. Daily production typically is adjusted for the volume of the find, based on a 20-year pumping schedule.
Tullow and its partners aren't done with their exploratory drilling, either.
"Oil is normally found in places adjacent to where it's already been found," O'Hanlon said, hopeful for future discoveries. "It's totally appropriate to imagine half-a-million barrels plus (per day), which puts Ghana in the big leagues."
Nigeria is Africa's top producer at 2.3 million barrels per day, or 3 percent of the world total, according to the CIA's World Factbook. But that oil production brings problems with it, including environmental degradation and a plague of militants attacking oil fields and kidnapping workers because they want better distribution of profits to the poor delta region, where the oil is pumped.
Angola is close behind Nigeria in production but it also suffers from massive corruption that has prevented the general population from benefitting from the profits.
Ghana's oil is also expected to be good for the United States, the world's biggest consumer, which is targeting West Africa for more imports, in hopes of relying less on the Middle East.
But Manteaw and others are more cautious. Ghana's former President John Kufuor eyed the creation of a separate investment fund for oil revenues, but Manteaw said the government did a poor job managing a similar education trust fund.
"It's become a convenient place where government can always dip its hand, when it feels cash strapped," he said of the education trust fund. "We would really push for insulating the oil funds from executive interference."
Kwasi Preko, a physics lecturer at Kwame Nkrumah University of Science and Technology, said there are dire risks associated with dishonesty among oil companies and governments.
"Lack of transparency and accountability," he said, "obstruct democracy and equitable economic growth, create environmental degradation and stress, attacks on installations, corruption, insurgence of militants and eventually collapse of democracy."
And in Denu, a town on Ghana's southeastern coast, auto parts store owner Abdul Hammid said he had no confidence in the prior administration, citing the criminal conviction of Tsatsu Tsikata, the former head of Ghana's National Petroleum Corp., for causing financial loss to the state.
"He has worked tirelessly, and look at where he is now," Hammid said several weeks ago, alleging as others did that the case was politically motivated.
One of Kufuor's final acts in office last week was to pardon Tsikata.
President John Atta Mills pledged in his inaugural address "honesty, fairness, compassion and sincerity will be the hallmark of my administration. The principles of accountability will be upheld."
Manteaw wants to hold a national conference for interested parties to air concerns. Southwest coastal communities near where the oil was discovered, for example, reportedly want 20 percent of state's share. An eastward glance to Nigeria is all that's needed to understand that community demands should be taken seriously.
"We take every opportunity we get," Tullow's O'Hanlon said, "in our dialogue and conversations with (government officials) to ensure that there's far better trickle down to the host communities. These people can put the kibosh on your project overnight if they feel left out or left behind."
There's no shortage of places to spend oil revenue in Ghana, where 42 percent of adults are illiterate and where one in four people won't live past age 40 — a lower life expectancy than in Haiti and Iraq, according to United Nations statistics.
Simply having resources doesn't always translate into great wealth. Ghana is the world's second-largest cocoa producer and Africa's number two gold producer.
But Ghana's gold revenues "have been modest, despite buoyant export earnings, as a result of generous writeoff provisions and other tax breaks for gold producers," wrote researchers for the International Monetary Fund in July.
Atta Mills also enters office amid a global and local financial crisis. World Bank and IMF officials are warning Ghana about its budget deficit and growing debt. The World Bank this month called the situation "worrisome."
But count oil executive O'Hanlon among the optimists. The large oil explorers had drilled for years off the Ghanaian coast, but came up empty. He is pleased that his company's persistance paid off and voices optimism that it can bring good fortune to Ghana.
"It seemed from day one to be something very big," he said. "Properly managed it can go an incredibly long way."