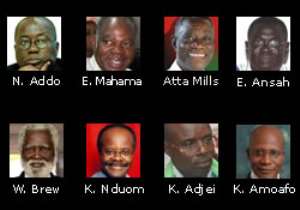 Presidential candidates
Presidential candidates and leaders of the seven political parties competing in the December polls have reiterated the call for peaceful elections in December.
Converging at a Presidential Symposium organised by the Editor's Forum, made up of editors and senior journalists of media institutions in the country, the candidates minced no words in their proposals and criticisms of state institutions with direct responsibilities for the organisation of the elections.
Presidential Candidate of the New Patriotic Party, Nana Akufo-Addo, reiterated the party's pledge for peaceful election and called on the security forces to deal ruthlessly with people who break the electoral laws with firmness and fairness in order not for people to take the law into their own hands.
He underscored the need for reinforced security during voting.
On the media, Nana Addo called on the National Media Commission to deepen their oversight responsibilities to ensure accuracy and fair reportage.
Hon. John Mahama, vice presidential candidate of the National Democratic Congress, called for an impartial and level playing field for all the parties.
He said government with the state and coercive institutions at its disposal has the major responsibility to ensure a peaceful election in December and must be seen to carry out that responsibility in an impartial manner.
"When the NDC candidate registered twice, within 48 hours he was jailed for 12 months, robbing us of a parliamentary candidate in the constituency, but the perpetrators of the Gushiegu crisis are still walking free."
He also accused the broadcaster, GTV of bias, having rejected adverts from the NDC.
This he said did not augur well for a country seeking peace in the December polls.
Presidential candidate of the Convention People's Party, Dr. Paa Kwesi Nduom called for more discipline on the part of the candidates and the leaders of the political parties.
He maintained that a CPP government that won independence for Ghana would not do anything to derail the peace that the country was enjoying.
He added that the CPP would not say or do anything to undermine the credibility of the Electoral Commission, since the populace would not accept the final results from a battered Commission.
Rather, the party would channel its grievances through the Inter Party Advisory Committee he added.
The DFP Presidential Candidate, Emmanuel Ansah Antwi accused his fellow aspirants of conniving with the Institute of Economic Affairs to deny them the opportunity to take part in the Presidential Debate.
"You should have shown solidarity by boycotting the Debate," he added.
Petra Amegashie, People's National Convention vice presidential candidate, T.N. Ward Brew, Presidential Candidate for the Democratic People's Party and the Reformed Patriotic Democrats' Presidential Candidate Mr. Kwabena Adjei all impressed on the EC, the media and the security agencies to ensure peace in the December polls.
Story by Nathan Gadugah