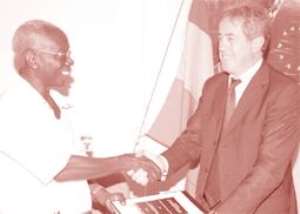 For the first time in Ghana's Fourth Republican democratic dispensation, the European Union (EU) is to send a 60-member Electoral Observer Mission to Ghana for the December 7 polls.
The first batch of 24 will be in the country from November, 2008 to January, 2009 while the second batch, known as the short-term group, will monitor the elections from December 4, 2008 to December 9, 2008.
Mr Filiberto C. Sebregondi, Ambassador and Head of the EU delegation in Ghana, announced this at the signing of a Memorandum of Understanding between the EU and the Electoral Commission (EC) in Accra yesterday.
Mr Sebregondi signed for the EU while Dr Kwadwo Afari Gyan, the Chairman of the EC, initialled for the EC.
Apart from the EU, the Economic Community of West African States has indicated its readiness to send in a 200-member observer team, while the Carter Centre will also send a team.
Mr Sebregondi said EU election observations were based on the principles of independence, impartiality, transparency, long-term observation and professionalism.
In 2000, the EU developed a standard methodology for election observation, which covers all phases of the election cycle; pre-election, election day and immediate post-election.
Mr Sebregondi said EU Election Observation Missions did not interfere in the organisation of any election but collected and analysed factual information concerning the election process and provided public assessment.
Dr Afari-Gyan said although Ghana had come far with elections, both local and international observer teams were still needed in the December polls to give an independent and objective assessment of the election.
He said a team like the EU was needed because of its experience in monitoring 58 elections worldwide, its time-tested objective, and systematic monitoring techniques and the pronouncement of verdict.
He said EU observer teams offered objective verdict "because they do not have immediate stakes in the elections".
Story by Donald Ato Dapatem & Jennifer Dornoo