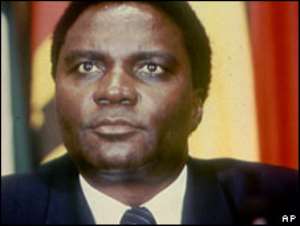 The luxurious home of Rwanda's former President Juvenal Habyarimana, whose assassination helped trigger the 1994 genocide, it to be made a museum.
The culture minister said the palace would promote reconciliation and as a reminder never to repeat the genocide in which some 800,000 people died.
Exhibits will include the wreckage of the plane in which Mr Habyarimana died.
Meanwhile, Germany has extradited an ex-minister to face trial at the UN war crimes tribunal for Rwanda in Tanzania.
Former Planning Minister Augustin Ngirabatware was arrested in Germany last year.
He faces charges including genocide, conspiracy to commit genocide, crimes against humanity and rape.
Some 800,000 minority Tutsis and moderate Hutus were slaughtered by Hutu militias in just 100 days in 1994.
Crash near palace
Culture Minister Joseph Habineza said the former presidential palace would "showcase Rwanda in its entirety".
"Our children should grow up knowing that what happened was very bad and should never be repeated," Mr Habineza told journalists, Reuters news agency reports.
Mr Habyarimana's eight-bedroom home has been left much as it was in 1994.

"Everything will remain as it is and within that luxury we want to tell the history and culture of Rwanda," Reuters quotes John Butoto, who is overseeing the museum conversion project, as saying.
Mr Habyarimana's plane was shot down in 1994 as it was coming in to land near the presidential palace.
Judges in France and Spain have accused current Rwandan President Paul Kagame and other senior officials of shooting it down - allegations they have always denied.
Mr Kagame has said Mr Habyarimana, a Hutu, was killed by Hutu extremists who then blamed the incident on Tutsi rebels, led by Mr Kagame, to provide the pretext for the genocide.
Since the International Criminal Tribunal for Rwanda was set up in 1997 to try the most high-profile genocide cases, 29 have been completed and five people have been acquitted.