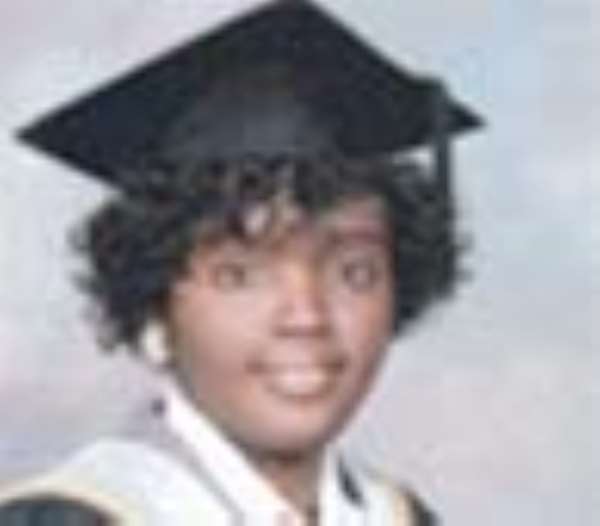 •Lawyer Fires Back
Ms. Georgette Dede Djaba, the female lawyer seeking the arrest of Mr. Jerry John Rawlings and his wife, Nana Konadu Agyeman Rawlings for what she claims are their gross human rights abuses, has maintained the pressure on the former president, daring him to face her on a one-on-one basis.
Her ultimate aim, she said, was to have the one-time dictator, whom she claimed had spilled so much blood, arrested and brought to book for the atrocities he allegedly unleashed on her family, including herself when she was only a student.
Ms. Djaba said her family, especially her mother had been traumatised since watching, on Ghana TV, the execution by firing squad of the late Gen. A.A. Afrifa and other heads of state.
As to why she was taking legal action now and not earlier, she explained that now was the opportune time to do so, having studied law and the fact that until now she was a refugee who had fled the atrocities being perpetrated by the Rawlings' regime and therefore could not take any such action.
Speaking to an Accra-radio station, HotFM, the lawyer recalled her harrowing experience at the hands of military interrogators because her father was wealthy.
She said her father, Mr. Hans Djaba would have long been dead but for providence which enabled him to flee through Abidjan, Cote d'Ivoire to the UK, through the active support of some footballers.
She denied the allegation that she was being instigated by some politicians, adding that all she wanted was to get the former president brought to book so that the atrocities he unleashed on Ghana did not recur.
She threw scorn at Rawlings' claim of coming from a Scottish father and challenged him to go for a DNA test to prove it, adding that the former president's father was a Lebanese.
Ms. Djaba, a member of the Labour Party in the UK said although she holds a British citizenship, she had not denounced her Ghanaian citizenship.
According to her, the late Mr. Justice Sarkodie, who was murdered by suspected state agents during the PNDC junta, suffered his fate because he was the one who had tried her father when he was arrested.
She recalled that during President John Agyekum Kufuor's recent visit to the United Kingdom as guest of Queen Elizabeth II, Nana Konadu Agyemang Rawlings was hopping from one media house to another attempting to pour cold water on the historic event.
She said she took exception to the former First Lady's attempts to create the impression that there were human rights violations in Ghana under President Kufuor, adding that her father, herself and brother were arrested and subjected to various forms of torture during the heady days of Rawlings' PNDC junta.
Nana Konadu, she said, was related to her by marriage because her father married a lady who was a cousin of the former First Lady's.
The woman announced that she had assembled a number of high-profile lawyers to wage her legal war, including scores of Ghanaian lawyers belonging to an association, Ghana Lawyers UK.
On the suggestion that she could have suffered a form of mental illness, she said if that were true, it could have been caused by the trauma she suffered under the Rawlings' junta.
"Don't interview me again. Go and interview my relatives, Boakye Djan and Alex Segbefia, the man who is doubling as the NDC Chairman in the UK and working as a solicitor at the Grand Prosecution Council," she charged.
When the office of the former president was reached for comments, Victor Smith said Ms. Djaba's comments did not merit their response because according to him, she was not a woman of substance.
"This is not about substance but purely about human rights abuses," she hit back.
The former president's Special Aide, Mr. Victor Smith described the lawyer's action as a New Patriotic Party (NPP) trick which was unfolded anytime the government was under pressure.
According to him, his boss had been briefed about the latest suit against him and so he was not perturbed.
Mr. Smith likened the current development to what had happened in Chicago when according to him, President Kufuor was somewhere in the US and "the cocaine thing was in Ghana. It is the Chicago replay".
"Where was the woman when the NRC was on and Adabuga and Chris Asher given safe passage to come into the country?" he asked and added "We'd ignore her."
He alleged that Georgette was peeved because of the interview Nana Konadu had with some radio presenters.
"We'd publish all which went on with some radio presenters involving the woman, including Nana Akufo Addo," he said, adding, "A radio presenter, Jane Narh was heckled by Georgette for interviewing Mrs. Rawlings."
The Special Aide said, "We'd have a lot to tell the British government about how they are propping up a puppet government like this one. They should look at their backyard."
Turning the heat on President Kufuor, Victor Smith thundered, "Don't play with the minds of Ghanaians when you can't run the country properly. Look at the energy situation."
He said the NDC did not shut down Akosombo even in the worst of times, warning that "we're coming close to shutting down Akosombo."
By A.R. Gomda