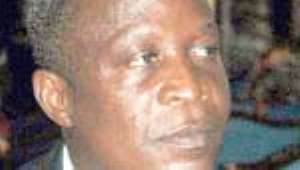 As part of efforts to improve the non-tax revenue base of the country, an on-site/daily collection banking service has been introduced for selected ministries, departments and agencies (MDAs).
Already, the Ministry of Finance and Economic Planning, the Bank of Ghana, the Controller and Accountant General's Department and some selected commercial banks have completed work on the on-site/daily collection banking service which will facilitate the collection of the non-tax revenue at the MDAs' premises.
In all, seven universal banks including the Ghana Commercial Bank (GCB), National Investment Bank, Merchant Bank, The Trust Bank, HFC Bank, Fidelity Bank and Prudential Bank will be involved in this banking service.
According to the programme, the banks will establish a collection facility or locate a branch at one central point where there are a cluster of MDAs. Fifteen MDAs including the ministries of Water Resources, Works and Housing; Trade, as well as the Lands Commission, Registrar-General's Department, Ghana News Agency and Land Title Registry will be involved.
To this end, the government has signed agreements with the selected banks for the programme to kick-start.
As part of the terms of engagement, the banks will be required to transfer all monies collected on behalf of the MDAs into the designated accounts within 48 hours after collection among other requirements.
While the Finance and Economic Planning Minister, Kwadwo Baah-Wiredu initialed for government, heads of the universal banks initialed for their outfits.
Giving a presentation at the signing ceremony, Mr. Baah-Wiredu said the overall objective of this measure is to further improve public financial management in the area of domestic resource mobilization as well as gradually increase the share of domestic revenue from the current 6 percent to between 10-12 percent in the medium term through the implementation of specific revenue enhancement measures.
Accordingly, the on-site banking project is one of the means being employed by government to improve collection mechanism, improve risk management and ensure a more efficient and timely transfer.
"It is the expectation that the new arrangement will reduce the incidence of revenue leakage due to fraudulent receipting and handling of cash," Baah-Wiredu said.
In 2006, on-site banking was introduced as a pilot project in the Drivers Vehicular and Licensing Authority (DVLA's) headquarters and the High Court in Accra.
Initial assessment revealed that both The Trust Bank and HFC Bank which were the banks involved recorded an increase of over 50 percent increase in revenue collections.
By Charles Nixon Yeboah