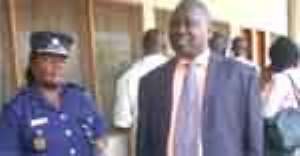 The Auction Task Force set up by government to oversee the sale of over-stayed containers at the Tema Port says it is in the process of conducting comprehensive investigations to ascertain how far the current system of clearing goods from the port has been abused.
Already, the Task Force had uncovered numerous deals in which some professional bidders were using fake bank payment receipts to clear containers from the port.
It was believed that the fraudulent practices had negatively impacted on government's revenue mobilization, running into some billions of cedis, and undermining attempts by the Customs, Excise and Preventive Service (CEPS) management to meet its annual target.
Briefing the press on the latest findings on the on-going auction sales, Harry Owusu, Executive Secretary of the Revenue Agencies Governing Board said some of the bidders were not paying anything, adding that checks at the Ghana Commercial Bank where such monies were to be paid, confirmed that the bidders had actually failed to make the requisite payments though the containers had been successfully cleared from the port.
He pointed out that though adequate publicity was carried out in both the print and electronic media, patronage of the auction was not encouraging since it was virtually restricted to a few group of the same type who turned out daily for what was termed 'controlled bidding'.
This group, according to him, had constituted themselves into an association called Ghana Custom Auction Bidders/Buyers Association with the motto: "Bid Wisely".
Though not yet established, it was strongly believed that these suspected miscreants might be enjoying some 'official' collaboration to be able to put their plans into effect, Mr. Owusu added.
So far five persons including all members of the so-called Professional Bidders have been arrested in connection with the acts.
P.C. Mensah, Yaw Marfo, Kofi Owusu, Felix Boadi and A.A. Kodie were the apprehended suspects.
The Task Force which comprised representation from the Ministry of Finance and Economic Planning, CEPS, the Ghana Ports and Habours Authority and the Ministry of National Security, was set up in September 2007.
By Charles Nixon Yeboah