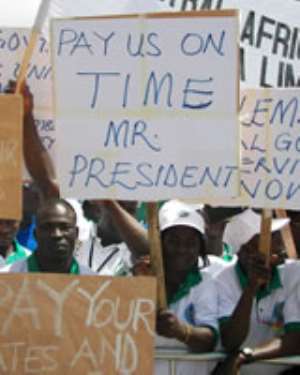 The Ghana National Association of Teachers (GNAT) has given the government up to next month to settle the salary arrears of teachers who passed out in 2005.
It said the Controller and Accountant-General promised that 2005/06 salary arrears which could not be paid because of problems with the Integrated Personnel Payroll Database One (IPPD I) were to be effected as soon as IPPD II was installed.
"The 2005/06 trained teachers and teachers who were promoted in that period have their arrears still hanging. It is more than a year now since IPPD II was installed and teachers cannot afford to wait any longer," a letter signed by the President of GNAT, Mr Joseph Adjei, and addressed to the Minister of Finance and Economic Planning said.
The GNAT estimated that majority of the teachers who came out in 2005 were yet to be paid their salary arrears. In addition, those promoted and placed on their correct salary scales in 2005 had also not been paid their salary arrears.
The letter said the rank and file of teachers needed to be convinced by initiatives on the part of the employer otherwise it would be very difficult to contain the "imminent explosion".
It indicated that the present labour environment was veiled by an uneasy calm and advised the government to act expeditiously to forestall the preventable.
Cataloguing a number of outstanding issues, the letter said the calculation of pension benefits for teachers who were retiring in 2007 was to be based on the total quantum of 100 percent, as shown in Appendix 'A' of the 2007 salary agreement, adding that "this clause has not been respected by the Ministry of Finance".
It said that was a complete breach of faith of the Labour Act and should be corrected immediately.
On motivation for teachers, the letter expressed concern about the poor supervision allowances given to teachers, explaining that the allowance of GH¢1 (¢10,000) a month for basic school headteachers of the second-cycle schools had remained static for the past 10 years, adding that that was not even paid regularly.
It said teachers would not accept anything less than an appreciable percentage of their monthly gross salary as supervision allowance.
The letter said it would be beneficial for educational authorities to tackle the question of retention of teachers with the same zeal applied to the recruitment of and posting of teachers to deprived/rural areas.
Among others, the letter said "The GNAT is hereby advising that GES should, by November 30, 2007, offer an explanation for this apparent delay and initiate steps to correct the situation".
Source: Daily Graphic