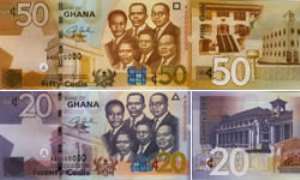 Business concerns and traders at Hohoe have appealed to the Bank of Ghana (BOG) to consider introducing new notes of GH¢ 2 (¢20,000) to make daily transactions easier and stress free.

They told the GNA in a survey that unavailability of the GH¢ 2 had left a yawning gap between the GH¢ 1 and the GH¢ 5 and this had affected transactions.

They expressed their indignation about the unavailability of enough coins especially the one Ghana cedi and the size of the one pesewa. ''It is too small and irrelevant in today's business dealings.''

Mr. Evans Agbemadu, proprietor of Global Ultimate Ventures, said the introduction of the two Ghana cedis would facilitate transactions.

Mr. Haruna Issakar, cabbie driver, commended the BOG for the re-denomination as it had reduced the volume of money one had to carry but said it was difficult to get coins.

Madam Agnes Holu, a trader at the Hohoe main market, called for the introduction of two Ghana cedis and that the smaller denominations were sometimes hard to find.

Mr. Solomon T. Bonsu and Mr. Joseph Bakers Benn, Hohoe branch managers of the Ghana Commercial Bank and Agricultural Development Bank respectively, said the banks were there to serve the public and therefore they should not be hesitant to approach them to do business or change money.

They said their banks had been liberal in the choice of notes and coins for customers.