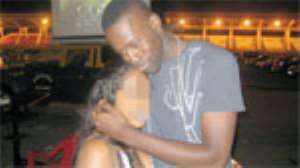 THE AIRPORT Police in Accra are hot on the heels of two persons who are suspected to have master-minded the gangster-style dawn killing of Darren Nana Kwame Danso, a 25-year-old former student of Pope John's Secondary School.
Danso was shot twice at around 4:30am by the gunmen last Friday morning at the Afrodisiac Nite Club at Airport Residential Area, near the National Service Secretariat.
Two empty ammunition shells found by the Police had been taken for ballistic analysis to determine the kind of gun used in the murder.
Darren was shot in the presence of his white girlfriend whom he frequented the club with as he sat in his vehicle at the parking lot of the club.
DAILY GUIDE's investigations have revealed that Darren might have been involved in some 'deals' while in the UK and had to relocate to Ghana to escape the wrath of some 'bad guys'.
The report on Darren alleged that he used to stay in hotels while in Ghana, but DAILY GUIDE gathered that he recently bought a house in Accra.
Further checks indicated that his mother (name withheld) runs a boutique around Kaneshie in Accra.
The Police are appealing to the general public to volunteer information leading to the arrest of the assailants.
The death of Darren, who was popularly known among the Ghanaian youth both in Ghana and UK, has attracted a number of comments posted on the internet by friends and loved ones around the globe.
Some of these comments read (unedited):
"I think the police should arrest all these bad boys in town from London…and some other groups who were at loggerheads with Darren's crew because that way, it will help much in the investigation.
Because this started from London and if care is not taken innocent lives will fall as well… is a very notorious bad boy in town who fights and guns people yet he eats with our top police officials, why that?"
"It pays to keep a low profile wherever we find ourselves. A lot of Ghanaians, especially those who reside in the UK AND US have a penchant for flaunting their status whenever they visit Ghana.
It is usually this bunch of ignoramus who get themselves in trouble whenever they visit Ghana. The smart and the well-meaning ones largely manage to stay trouble-free.
The UK AND U.S. are countries which just occupy other geographical positions on earth. May the chap who was shot rest in peace! The killer will however rot in hell. I can feel it."
"I've known Darren since he was 10yrs old.
I watched him grow before I left for the States. Actually we lived in the same house for 11yrs. He was like a little brother to me. We wore the same clothes and did crazy things together. I can't even imagine how your sister Daisy feels right now. I really miss you.
Darren Nana Kwame Danso rest in peace. I was supposed to call u last week, I wish I did. Much love, I will keep you in my prayers."
By Wisdom P. Awuku & Chi