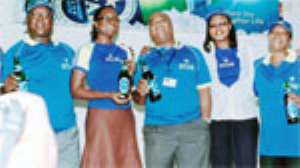 GUINNESS Ghana Breweries Limited, the nation's most celebrated business has unveiled a stylish and contemporary new-look bottle for its leading Lager brand, Star.
STAR beer, the premium quality Lager brand, tagged, "The Nation's Favourite Beer" now comes in a modern and exciting new bottle embossed with stars. The new packaging also comes with a circular neck label.
"As a power brand, Star needs to review its image periodically to remain relevant to its core consumers and also remain competitive in the market.
This is to ensure that consumer experience with the brand continues to be that of fun and the celebration of a brighter lifestyle," GGBL said.
At a fun-packed launch event held at the Aviation Social Centre in Accra, consumers from all walks of life joined GGBL to celebrate the re-birth of "The Nation's Favourite Beer".
Star Lager, which was introduced onto the Ghanaian market in 1960, has become the toast of every celebration in this country.
Star offers every true beer drinker a smooth, well-rounded bitter taste with a million sparkling bubbles and a uniquely rich foamy head.
In his we1come address, Seni Adetu, Managing Director of GGBL, stated, "We are witnessing today, where 47 years ago, others witnessed the birth of a brand that was to become the toast of every celebration in this country.
Men and women toiled tirelessly on that day to ensure that the first bottle hit the market with a big bang!"
He paid glowing tribute to Ghanaian consumers and said: "We have delighted consumers with our innovations, fulfilling every consumer need, and not stopping at that, but continuing to research consumer motivations. So much has changed, yet we continue to delight Ghanaian consumers as we did five decades ago".
Launching the new bottle, Mrs. Shirley Shooter, Head of Marketing at GGBL, said, "Your favourite Star is now coming to you in a modern and exciting new bottle, which is embossed with Stars with a circular neck label and a new crown cork".
She went further to state that "the taste of Star remains the same; the liquid content also remains the same as well as the price."
The GGBL team outlined the various activities like musical road shows and loyalty schemes that will follow to excite and reward consumers for their patronage. These activities will take place nationwide.
From The Business Desk