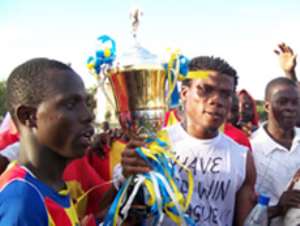 After a hectic footballing season spanning a nine month period, the premiership's key actors nominated for deserving award categories await Saturday's coronation ceremony of the Premier League Awards.
The Premier League Awards instituted last season seeks to pat players, coaches, referees and administrators for their outstanding performances exhibited in the premiership.
Saturday evening's event which is expected to receive the usual pomp that such night's come with will see fourteen winners from different award categories.
Out of the 14 award categories, eight were be decided by public voting through SMS messages, whilst the remaining six are determined by the expertise of the selected special committee.
The awards that have been decided by the public are: Player of the Season, Discovery of the Season, Most Improved Club, Best Behaved Venue, Defender of the season, Goalkeeper of the Season, Best Referee, Coach and Chairman of the season.
For most people, the highlight of the evening would be the Best Player of the season award which pitches Kwaku Essien (King Faisal), Alhaji Sanni (AshantiGold FC) and Kwadwo Asamoah (Liberty Professionals) for the prize which comes with a salon car.
But whiles the players await the outcome of the results influenced by public voting, three coaches would also seek public sympathy to pick the Coach of the season award.
Mitko Dobrev Kostadinovic who guided Accra Hearts of Oak to the league title faces stern competition from David Duncan of AshantiGold and Heart of Lions manager Hans Van Der Plyum.
Ghana Football Association Ghana Football Association
Below are the award categories:
Non Public-Voting Awards
F.A employee of the season:
Champion club:
Accra Hearts of Oak
Highest Scoring Team:
Kpando Heart of Lions
Goal king:
Emmanuel Clottey (Accra Great Olympics)
Public Votes Awards
The public has 40% and the awards committee has 60% of the power to determine the following awards
Best Player of the season:
Kwaku Essien (King Faisal)
Alhaji Sanni (AshantiGold FC)
Asamoah Kwadwo (Liberty Professionals)
Discovery of the season
Ekow Benson(Tema Youth)
Alhaji Sanni (AshantiGold FC)
Emmanuel Clottey (Accra Great Olympics)
Defender of the season:
Isaac Vorsah (Kumasi Asante Kotoko)
Jonathan Quartey (AshantiGold FC)
Yahya Mohammed (Hasaccas)
Referee of the season:
Cecil Fletcher
Daniel Offei
Mercy Tagoe
Most improved club of the season:
Accra Great Olympics
Heart of Lions
AshantiGold FC
Most promising goal keeper of the season:
Ernest Sowah (Tema Youth)
Isaac Akrong (Gamba All Blacks)
Joseph Addo (Hasaccas)
Best behaved match centre:
Carl Reindorff (Liberty Professionals)
Ho Sports Stadium (Accra Great Olympics)
Swedru Park (Gamba All Blacks)
Coach of the season:
David Duncan (AshantiGold FC)
Hans Van Der Plyum (Heart of Lions)
Mitko Dobrev Kostadinovic (Accra Hearts of Oak)
Chairman of the season:
Kudjoe Fianoo (AshantiGold)
Victor Ahiakpkor (Kpando Heart of Lions)
Eric Afotey Odai (Accra Great Olympics)
Fair play team of the season:
Fetteh Feyenoord
Heart of Lions
AshantiGold FC