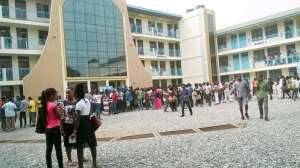 Preliminary findings from ongoing research by a lecturer at the University of Media, Arts, and Communication–Institute of Journalism (UniMAC-IJ) have shown that 64% of level 100 and 400 students at the university have been involved in toxic or sour relationships.
The head of the media studies department at UniMAC-IJ, Dr. Paul Herzuah, made this known while speaking at the eighth inter-faculty research seminar held virtually via Zoom on Friday, September 15, 2023, on the topic: "Address terms preferences of students in digitally mediated communication environment in a Ghanaian university."
According to Dr. Herzuah, the study's primary focus was to establish the rationale behind how students in the digitally mediated communication space ascribe names to their contact numbers, whether on social media or on their contact lists. This, he said, is because names are identity markers.
"As symbols of identities, names may tell something about the bearer of the name, for instance if you are called Kwesi, it tells that you are a male born on Sunday or Akosua for a female. And then also names establish the cultural heritage of interlocutors," Dr. Herzuah explained.
The study used purposive sampling of 250 level 100 and 400 students from UniMAC-IJ. The study revealed that 88% of the respondents indicated being in some form of a "loved" relationship on campus.
While 72% of saved contacts expressed intimate or romantic relationships, 64% of saved contacts expressed sour or toxic relationships.
According to the study, some of the respondents who have had sour or toxic relationships used names like "Foolish boy", "Broken heart", "Jon", "God punish you", "idiot", "Don't pick" etc., to save the number of those hurtful or abusive ex-partners on their contact list.
However, some of the respondents ascribed names like "God on earth", "Locked 4 life", "Husbee", "Future husband", and "Cuddle Cake" among other names, to contacts on their list. This typifies the level of intimate relationship these respondents have with those contacts.
"I believe that we're meant to be together and getting married no matter what…," one respondent explained why she used "Husbee" to save a contact on her phone.
In his recommendations, Dr. Herzuah urged the students to prioritize their academic activities over campus-based relationships, even though the two cannot be decoupled.
"I recommend that students should focus more on their academic work rather than being in these social relationships even though the two go together, they cannot preoccupy their minds with relationships which may affect their academic work as far as their GPA is concerned," Dr. Herzuah said.
Meanwhile, Dr. Herzuah also emphasized the need for active and functional counselling units on the campuses of various secondary and tertiary schools to help students deal with the trauma and dangers associated with these relationships. This, he said, is because students go through a lot, which sometimes results in suicide on our campuses.
"As long as we are in a campus community, there are a lot of issues beyond academia and as they say a sound mind resides in a sound body," he said, adding, "So I think the counselling units or directorates have a lot of work, come to think of it the rate of suicides and other things that go on on our campuses, that's just the tip of the iceberg because a lot more students are enduring toxic relationships."
The eighth inter-faculty lecture was organized by the Directorate of Research, Innovation, and Development (DRID) at UniMAC-IJ to bring together the university community to deliberate on a colleague lecturer's research project to provide feedback and guidance on the work.
Inter-faculty lectures offer a platform for the sharing of knowledge and generation of feedback based on research presentations.
This, according to the director of DRID, Dr. Etse Sikanku, helps to engender intellectual discourse at the university. Such events, he said, are associated with universities across the world.
Source: Emmanuel Kwarteng