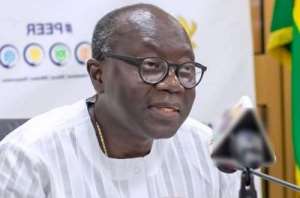 The Finance Minister Ken Ofori-Atta says Ghana is on track to receive the second tranche of the IMF bailout cash in December to support the government's balance of payments (BOP) for 2023 and 2024.
The Bank of Ghana's June 2023 summary of the Economic and Financial Stability Report shows that the bank's BOP at the end of June 2023 recorded a deficit of $107.8 million, approximately 0.1% of GDP.
This, the bank said, was significantly lower than the deficit recorded during the same period in 2022.
Speaking at the 3rd GIPC-CEO breakfast meeting in Accra, Mr Ofori-Atta said the government is ready to have its first review with the IMF in November, as it awaits the second tranche of $600 million.
"We are ready for the mission that comes at the end of September so that we can try and get the staff level agreement, while the mission is here, and then we go to the board in November for the release of the 2nd tranche which will be $600 million. In addition to that, there are certain things we need to do with the World Bank so that we can get our DPO, which will be another $300 million. I believe that we are on course to maybe get a billion dollars to support Bank of Ghana's balance of payment issues."
He further expressed confidence in concluding talks with the Paris Club and its bilateral creditors by the end of the year.
Ghana in May 2023 received the first tranche of its $3 billion bailout package from the International Monetary Fund (IMF).
The first tranche of the $3 billion three-year extended credit facility Ghana secured from the IMF was aimed at reviving its ailing economy.
The International Monetary Fund (IMF) in August 2023 cautioned the Bank of Ghana, emphasizing the importance of upholding its policy mandates despite the financial setback experienced in the fiscal year ending 2022.
The IMF emphasized that it remains essential for the central bank to take decisive measures to steer inflation back to its designated target of 8 percent.
"The loss the BoG incurred in the process has contributed to reducing its net equity to a negative value. Importantly, however, this does not prevent the BoG from fulfilling its policy mandates and ensuring inflation gradually returns towards its 8-percent target", the IMF said in a press release.
The IMF has, however, backed the Bank of Ghana's GHS 60 billion loss saying the impairment which was brought on by the government's Domestic Debt Exchange (DDE) was necessary to "restore macroeconomic stability and public sustainability."