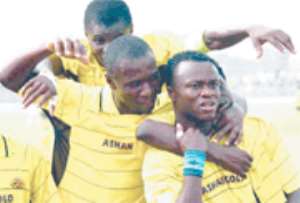 Mr Cudjoe Fianoo, Chief Executive Officer of Ashantigold Sporting Club, has commended his players for last Sunday's 2-0 win over as FAR of Morocco, describing it as a big achievement.
Speaking after the epic match, he said his boys performed very well, and all things being equal they would march on the North Africans in the second leg of their Champions League encounter.
Mr Fianoo, aware of what the Moroccans could do, said "they can give us a tough time, but definitely we will qualify."
He observed that followers of the club lost hope in relation to the match as a result of last Wednesday's mid-week league game against Hearts of Oak, but with the performance the core-support would glow when the team continues to win its matches.
The CEO thanked God, the club's sympathisers, the technical bench and the playing body for the victory.
However, the visitors have described Ashantigold's 2-nil victory as "accidental success," adding that they put up a spirited performance but the Nigerien referee,
Shaibu, gave two questionable goals to the Obuasi-based club.
They complained that the penalty awarded against them should not have been given in such an international match but he overlooked that.
The second goal was described as worse, but they quickly admitted that Ahantigold club is a force to reckon with.
"Those small boys can cause havoc when they get a good day," one AS FAR official remarked.
They emphasised that come two weeks, they would bundle the Ghanaian club out of the competition with a 3-0 bang.
Story by Collins Agyekum Gyasi