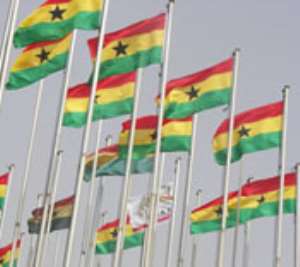 An exercise to beautify the Sunyani Municipality ahead of Ghana's Golden Jubilee has started with the hoisting of the national flag on streetlights, electricity poles, and houses.
Vehicles and buildings of corporate institutions and those of individuals and other structures have also not been left out as the jubilee fever builds up.
Streetlights along the Sunyani-Kumasi trunk road for instance have been decorated in the National colours.
Pavements along some principal streets and ceremonial roads of the Municipality have also received paintings all in an effort to put the place in good shape for the celebrations.
Speaking in an interview with the Ghana News Agency, Mr. Kwame Twumasi-Awuah, the Municipal Chief Executive, said the exercise formed part of the municipality's beautification programme and it was aimed at putting the town in good shape for the celebration.
He however, said the exercise was only restricted to the principal and ceremonial streets of the Municipality adding "work had to start now in view of the limited number of days left for the celebration".
Meanwhile, the sale of the national flag and other state paraphernalia has increased.
Some however have expressed concern about the high cost of anniversary t-shirts, miniature flags and other materials and called for drastic reduction in the prices for wider patronage.